Amersfoordt, Hermina Maria, geb. Dijk
* 26. Juni 1821 in Amsterdam, † 16. Juli 1892 ebd., Klavierspielerin. Sie war das dritte von zehn Kindern. Von ihren Geschwistern starben vier bereits im Kindesalter. Ihre Mutter Unica geb. Cook entstammte dem niederländischen Zweig einer angesehenen deutschen Familie. Hermina Dijk erhielt ihre Ausbildung zunächst von Johannes Bernardus van Bree (1801–1857) sowie dem französischen Violinisten Charles-Philippe Lafont (1781–1839). Später wurde sie von Jan Georg Bertelmann (1782–1854) bis zu dessen Tod im Fach Komposition unterrichtet. Für einige Wochen erhielt sie zudem Unterricht von Antoine Elwart (1808–1877) in Paris.
Zunächst als Kindervirtuosin gab Hermina Dijk im Alter von acht bis 18 Jahren jährlich Konzerte im Amsterdamer Konzertsaal Felix Meritis. Dabei musizierte sie oft gemeinsam mit ihren Lehrern van Bree oder Lafont. Vermutlich wurden diese Auftritte von ihrem Vater organisiert, der beruflich mit Arzneikräutern handelte, daneben aber viele Jahre lang den Musikzweig der Gesellschaft Felix Meritis leitete. Schon mit neun Jahren nahm sie an einem Konzert für die königliche Familie in Felix Meritis teil und spielte dort gemeinsam mit van Bree Klavier-Violin-Variationen von Herz und Lafont. In den nachfolgenden Jahren enthielt ihr Repertoire Werke von Hummel, Moscheles, Osborne, de Beriot, Döhler und Leopoldine Blahetka. 1838 ließ sie sich erstmals mit einem Werk aus eigener Feder hören, den Klaviervariationen über das Lied Ma Normandie.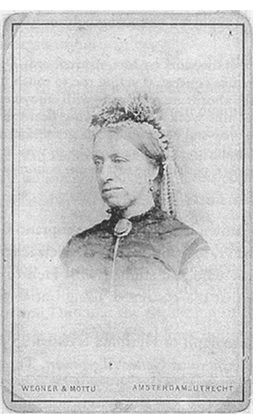 1840 spielte sie im Saal der Gesellschaft Felix Meritits zum letzten Mal. Möglicherweise unterbrach Hermina Dijk ihre Karriere, um sich um ihre erkrankte Mutter zu kümmern. Erst am 30. März 1849 trat sie wieder öffentlich auf: Mit dem Geiger van Bree und dem Cellisten Jean Godefroid Merlen spielte sie ein Klaviertrio Beethovens. Die niederländische Musikzeitschrift "Caecilia" bezeichnete das Spiel der Drei als "uitmuntend" ("exzellent", Caecilia 1849, S. 84). Im gleichen Konzert demonstrierte Hermina Dijk mit Thalbergs Fantaisie sur des motifs de l'opéra La Muette de Portici op. 52 ihre pianistische Virtuosität. Über den Stil ihres Klavierspiels ist wenig bekannt. 1871 verglich das "Algemeen Handelsblad" ihr Spiel mit dem der Pianistin Wilhelmine Clauss-Szarvady. In den frühen 1850er Jahren legte Hermina Dijk ihr Augenmerk auf die Komposition von Werken großen Formats. Van Bree dirigierte in den 1850er Jahren die Uraufführungen ihrer beiden Ouvertüren in Felix Meritis. Trotz solcher Erfolge blieb Hermina Dijk eine sogenante Dilettantin, die ihre musikalischen Tätigkeiten nicht aus finanzieller Notwendigkeit betrieb.
Im Febr. 1852 heiratete Hermina Dijk den hochgebildeten, sowohl als Literat wie auch als Jurist jeweils mit einem Doktortitel dekorierten Jacobus Paulus Amersfoordt (1817–1885). Dieser verfügte auch über ein ausgeprägtes musikalisches Interesse und war eng mit Jan Georg Bertelman (1782–1854) befreundet, der – möglicherweise durch die Vermittlung ihres Mannes – zum Kompositionslehrer Hermina Amersfoordts wurde.
Dennoch wandelte sich Hermina Amersfoordts Leben durch die Heirat in radikaler Weise. Ihr Mann widmete sich nun dem Aufbau eines aufwändigen landwirtschaftlichen Betriebes in Haarlemmermeer nahe Amsterdam, um dort neuartige landwirtschaftliche Techniken zu erproben. Hatte Hermina Amersfoordt zuvor am reichen kulturellen Leben Amsterdams teilnehmen können, so war sie nun stark an Haus und Hof in Haarlemmermeer gebunden. Dort ging sie praktischen Tätigkeiten im Rahmen der landwirtschaftlichen Produktion nach, wie etwa der Aufsicht über die Butter- und Käseproduktion. Die fortschrittlichen Techniken des Hofes zogen zunehmend Fachbesucher, aber auch Interessenten aus Politik und Adel an, wobei Hermina Amersfoordt die Rolle als Gastgeberin übernahm. Dabei unterhielt sie die Besucher auch mit ihrem Klavierspiel. Für die niederländische Königin Sophia spielte Hermina Amersfoordt eine Klaviersonate aus eigener Feder, für den brasilianischen Kaiser Dom Pedro de Alcântara musizierte sie ihr Capriccio und improvisierte, wobei Letzteres besonderen Eindruck hinterließ: "Algemeene stilte ontstond in het vertrek; het ééne fraaije motief verving het andere; de fijnste versieringen werden aan die motieven aangebragt. De Keizer […] raakte blijkbaar, als eens Koning Saul, onder den invloed der muziek; hij knikte steeds met het hoofd, en moedigde met de oogen de kunstenares aan" ("Allgemeine Stille entstand in diesem Raum; ein schönes Motiv folgte dem anderen; feinste Verzierungen wurden den Motiven beigefügt. Wie einst König Saul geriet der Kaiser offensichtlich unter den Einfluss der Musik; er neigte den Kopf und sah die Künstlerin aufmunternd an", Weekblad von Harlemmermeer 27. Juli 1877).
Auch in ihrer Zeit in Haarlemmermeer komponierte Hermina Amersfoordt, schrieb dort etwa das Oratorium Gottes Allgegenwart op. 40 für Solisten, Chor und Orchester. Zum 70. Geburtstag der bekannten niederländischen Schriftstellerin Anna Bosboom-Toussaint verfasste sie 1882 ein Andante grazioso für Klavier. Nach dem Tod ihres Ehemannes 1885 verkaufte Hermina Amersfoordt das Anwesen und kehrte nach Amsterdam zurück, um dort ihre letzten Lebensjahre zu verbringen.
WERKE FÜR KLAVIER
Klaviervariationen über Ma Normandie (1838, verschollen); Klaviervariation über ein Thema aus Norma (ca. 1838, verschollen); Walzer (1839, verschollen); Duett für Violine und Klavier (ca. 1850, verschollen); Klaviersonate (1854, verschollen); Capriccio für Klavier (ca. 1877, verschollen); Andante grazioso (1882)
LITERATUR
Algemeen Handelsblad [Amsterdam] 29. Dez. 1871
CaeciliaNL 1849, S. 84
Weekblad van Haarlemmermeer 27. Juli 1877
Edouard Grégoir, Biographies des artistes-musiciens néerlandais des XVIIIe et XIXe siècles et des artistes étrangers résidant ou ayant résidé en Néerlande à la même époque, Antwerpen 1864, Art. Amersfoordt.
Henri Viotta, Lexicon der Toonkunst, 3 Bde., Bd. 1, Amsterdam 1883.
J. H. Letzer, Muzikaal Nederland 1850–1910, Utrecht 1911.
Altmann, MGG 2000
Jacobus Paulus Amersfoordt, "Impressions musicales d'un voyage à Paris dans les mois de mars et d'avril 1852, communiquées a mon ami David Koning, compositeur de musique a Amsterdam", in: Le Souvenir, revue des modes et des salons, Apr. 1852, S. 193–201.
S. Duparc, "J. G. Bertelman", in: De Muziek 6 (1931), S. 294–306.
Anton van der Vet, Vergeten voorman. Leven en werken van Mr. J. P. Amersfoordt, den pionier van de Haarlemmermeer, Amsterdam 1947.
Wouter Slob, "Een eeuw geleden stierf Hermina Maria Dijk", in: Meer-Historie, Dez. 1992, S. 9–15.
Helen Metzelaar, From Private to Public Spheres: Exploring Women's Role in Dutch Musical Life from c. 1700 to c. 1880 and Three Case Studies, Utrecht 1999.
Helen Metzelaar, "De positie van componerende en musicerende vrouwen in de negentiende eeuw", in: Een Muziekgeschiedenis der Nederlanden, hrsg. von Louis Peter Grijp [u. a.], Amsterdam 2001, S. 448–454.
Helen Metzelaar, "Hermina Amersfoordt-Dijk (1821–1892)", in: Women Composers: Music Through the Ages, 8 Bde., Bd. 7, Composers born 1800–1899, Vocal Music, hrsg. von Martha Furman Schleifer u. Sylvia Glickman, New York 2003, S. 178–192.
Bildnachweis
Metzelaar 1999, S. 238
Helen Metzelaar (Übersetzung: VT)
© 2009 Freia Hoffmann