Herschel, Caroline, Carolina, Karoline
(Lukretia, Lukrezia)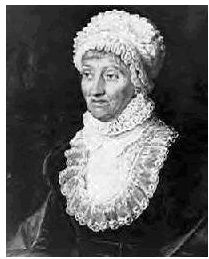 *16. März 1750 in Hannover, † 9. Jan. 1848 ebd., Violinistin, Sängerin und Astronomin. Sie besuchte die Garnisonsschule und erhielt von ihrem Vater, dem Hannover'schen Militärmusiker Isaac Herschel (1707–1767), Violinstunden. Für die Mitteilung von Mendel, sie sei eine "gute Harfenspielerin" gewesen, bevor sie sich dem Gesang zuwandte, findet sich in ihren Memoiren kein Beleg.
Ihr Bruder Friedrich Wilhelm (William) Herschel (1738–1822), der in Bath (Somerset) als Organist, Musiklehrer, Chor- und Orchesterleiter wirkte, vermittelte ihr von 1772 an in England eine Gesangsausbildung, wonach sie einige Jahre als Oratoriensängerin wirkte und im Chor ihres Bruders Leitungsfunktionen übernahm. Mit ihm zusammen betrieb sie astronomische Forschungen, die u. a. zur Entdeckung des Planeten Uranus führten. Die Entdeckung von acht Kometen und einer Vielzahl von Doppelsternen wird Caroline Herschel zugeschrieben. Nach dem Tod des Bruders 1822 kehrte sie nach Hannover zurück, setzte ihre astronomischen Studien fort und wurde 1846 von Friedrich Wilhelm IV. von Preußen mit der goldenen Medaille für Wissenschaft und Kunst ausgezeichnet.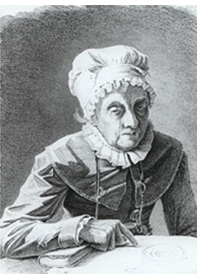 LITERATUR
John Herschel (Hrsg.), Memoirs and Correspondence of Caroline Herschel, London 1876; deutsche Ausgabe: John Herschel (Hrsg.), Caroline Herschel's Memoiren und Briefwechsel. (1750–1848), aus dem Englischen
übersetzt von A. Scheibe, Berlin 1877.
Michael Hoskin (Hrsg.), Caroline Herschel's Autobiographies, Cambridge 2003.
Leipziger Illustrirte Zeitung 12. Febr. 1848
Mendel
Heinrich Sievers, Die Musik in Hannover, Hannover 1961.
Heinrich Sievers, Hannoversche Musikgeschichte. Dokumente, Kritiken und Meinungen, 2 Bde., Bd. 1, Tutzing 1979.
Bildnachweis
The William Herschel Museum, Bath. Postkarte "Caroline Herschel in later life".
http://www.daviddarling.info/encyclopedia/H/Herschel_Caroline.html, Zugriff am 2. März 2007.
FH
© 2006 Freia Hoffmann