Goñi, Gony, Gonni, Gone, D´Goni, Maria Dolores de, geb. Esturias Navarres, Nevarez, Nevares, verh. Knoop, Knoop de Goni
* 1813 in Madrid (?), † 1892, Ort unbekannt, Gitarristin, Gitarrenlehrerin und Komponistin. Dolores Esturias Navarres ist vermutlich in Spanien aufgewachsen und heiratete vor 1837 einen Gitarristen namens de Goñi. Sie trat das erste Mal 1837 in Paris unter dem Namen "Madame Nevarez de Goni" (Fleury u. Paris, S. 449) in Erscheinung. Es folgten Konzerte in Straßburg (Aug. 1838), London (Sommer 1840, Okt. 1843) und Cambridge/MA (Jan. 1842). Von 1840 bis 1844 finden sich zahlreiche Auftritte in den USA, meist zusammen mit dem Violoncellisten und späteren zweiten Ehemann George Knoop. Die Presse berichtet von Konzerten in Rochester (1840),Cincinnati/OH (Winter 1840, Dez. 1841, Jan. 1842, Okt. und Nov. 1844), Boston (Jan.–März 1842, Apr. und Dez. 1843, Jan. 1844), Philadelphia (Febr. 1841, Apr. und Dez. 1842, Jan. 1843), Washington (Mai 1842), Baltimore/MD (Juni 1842), Charleston/SC (Mai 1841, April–Mai 1843), New York (Okt. 1843, Okt. 1844) und Bethlehem/PA (1843).
Dolores de Goñi stand seit den 1840er Jahren mit dem US-amerikanischen Gitarrenbauer Christian Frederick Martin in engem Kontakt und konzertierte meist mit Gitarren aus seiner Werkstatt. In den 1850er Jahren widmete ihr seine Firma das Gitarrenmodell "large dei Goni" (Bradford, S. 1). Der Schriftsteller Henry Wadsworth Longfellow berichtet am 21. Jan. 1842 in einem Brief an seinen Kollegen Samuel Cutler Ward von seinen Eindrücken aus einem Konzert des Ehepaars in Cambridge: "But there is with him a Spanish Lady – La Señora De Goñy, whose guitar delights me more, perhaps because it awakens sweet remembrances of early youth and Spain; – perhaps because a woman plays it, and the devil is in it" (Wadsworth Longfellow, S. 378).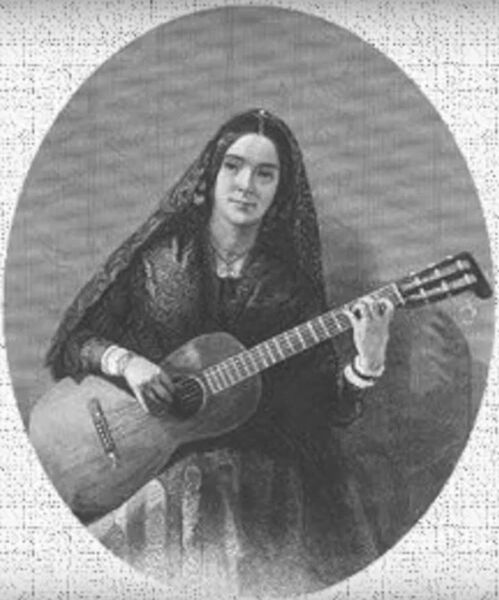 Maria Dolores de Goñi. Kniestück unbekannter Herkunft.
Insgesamt vermitteln die überlieferten Rezensionen den Eindruck, dass der Erfolg Dolores de Goñis in Europa ausgesprochen bescheiden ausgefallen ist. Einige Rezensionen drücken zudem starke Vorbehalte gegenüber dem Instrument aus. So heißt es nach einem Konzert 1837 in Paris: "Madame Nevarez de Goni […] nous a régalés d´un nombre considérable de sonates et de thèmes variés, sur la guitare… Depuis le temps où j´ai terminé à Fleuve du Tage mes études sur la guitare, j´ai le malheur de professer une assez mince estime pour ce sentimental instrument: je le trouve ingrat, mesquin, borné, sot" ("Madame Nevarez de Goni […] ließ uns eine beträchtliche Zahl von Sonaten und Themen mit Variationen auf der Gitarre genießen... Seit ich meine Studien an der Gitarre am Strom des Tajo beendet habe, muss ich leider eine ziemlich geringe Achtung gegenüber diesem sentimentalen Instrument bekennen: Ich finde es mühselig, schäbig, beschränkt, dumm" (La Chronique de Champagne 1837 II, S. 449). Demgegenüber löste Dolores de Goñi bei ihren Konzerten in den Vereinigten Staaten geradezu überschwängliche Reaktionen aus. In der Rezension eines Konzerts am 27. Okt. 1843 im Apollo Saloon in New York vergleicht der Rezensent die Gitarristin mit den bekannten Gitarristen Frederico Moretti (1769–1838), Fernando Sor (get. 1778–1839) und A. F. Huerta y Katurla (1804–1875): "Mons. Soar, who has labored to produce this same imitation, gave us less satisfaction than the two others, in spite of his great reputation, as the first guitarist in Europe. But the other evening, when we heard Mad. de Goni for the first time, we were compelled to change our opinion. This lady has a peculiar art of drawing from her instrument the tones of the human voice. Her playing is a song of continuous sweetness, and executed in a style at once exquisite and dramatic. This lady, indeed, succeeds in what guitarists generally are almost afraid to attempt; and not only does she succeed in the department to which we have referred, but in the short pieces which are most natural on the guitar, her performance is, in every respect, charming" (The New World 1843, S. 607). Nach 1844/45 scheint Dolores de Goñi nicht mehr öffentlich konzertiert zu haben. Um 1845 heiratete sie zum zweiten Mal: "George Knoop […] and his longtime touring partner, the guitarist Dolores de Goni, at last were married (Señor de Goni having discreetly vanished in some unspecified fashion)" (Lawrence, S. 353). Als Komponistin publizierte sie unter dem Namen Mrs Knoop in den Vereinigten Staaten zwischen 1847 und 1866 mehrere Kompositionen für Sologitarre.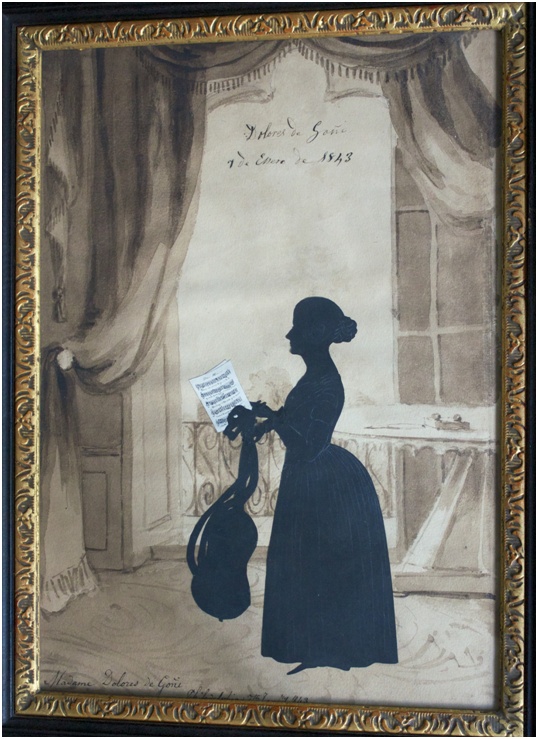 "Dolores de Goñi y de Enero de 1843". Scherenschnitt auf Aquarell von Augustin Edouart (1789−1861), 7. Jan. 1843 Philadelphia.
WERKE FÜR GITARRE
Six Waltzes, 1837; L'Alhambra Waltz, 1847; Carnival Of Venice, 1847; The Flowers Of Andalusia, 1850; Rossignol Polka, 1850; The Adieu, 1866
LITERATUR
AmZ 1838, Sp. 566f.
Boston Courier 1842, 31. Jan., 7. Febr.; 1843, 14. Dez.
La Chronique de Champagne 1837 II, S. 449
The Daily Atlas [Boston] 1842, 22., 25., 27. Jan., 16., 17. Febr., 4., 5. März; 1843, 25. Apr., 19., 21. Dez.
Daily Evening Transcript [Boston] 1842, 24. Jan., 12. Febr.; 1843, 20., 21. Dez.; 1844, 31. Jan.
The Madisonian [Washington]1842, 10., 17. Mai
MusW 1837, S. 16; 1840, S. 408; 1844, S. 87, 405
NZfM 1843 II, S. 191
The New World 1843, S. 489, 607, 706
The New York Herald 29. Okt. 1844
The North American And Daily Advertiser [Philadelphia] 1841, 23. Dez.; 1842, 18., 22. Apr.; 1843, 9., 19. Jan.
Public Ledger 6. Jan. 1842
The Southern Patriot [Charleston], 1843, 6., 10., 17., 24., 25. Apr., 9. Mai
The Sun [Baltimore] 1. Juni 1842
Henri Fleury u. Louis Paris, La Chronique de Champagne, 4 Bde., Bd. 2, Reims u. Paris 1837.
Deutscher Pionier-Verein von Cincinnati (Hrsg.), Der Deutsche Pionier. Erinnerungen aus dem Pionierleben der Deutschen in den Vereinigten Staaten, 18 Bde., Bd.7, Cincinnati 1875.
William L. Mactier, A sketch of the Musical Fund Society of Philadelphia, Philadelphia 1885.
Max Burgheim, Cincinnati in Wort und Bild, Cincinnati 1888.
Rufus A. Grider, Historical Notes on Music in Bethlehem, Pennsylvania. From 1741 to 1871, Philadelphia 1873, Repr. Winston-Salem 1957.
The Letters of Henry Wadsworth Longfellow. 1814–1843, hrsg. von Andrew Hilen, 2 Bde., Bd. 2, London 1967.
Albert Stoutamire, Music of the Old South. Colony to Confederacy, Cranbury 1972.
Vera Brodsky Lawrence, Strong on Music. The New York Music Scene in the Days of George Templeton Strong. Resonances 1836–1849, 3 Bde., Bd. 3, Chicago 1995.
Eliza Cope Harrison (Hrsg.), Best Companions. Letters of Eliza Middleton Fisher and Her Mother, Mary Hering Middleton, from Charleston, Philadelphia, and Newport 1839–1846, Columbia 2001.
Philip F. Gura, C. F. Martin and His Guitars. 1796–1873, Chapell Hill 2003.
David K. Bradford, de Goni, Dolores Nevares, 2009, http://www.19thcenturyguitar.com/index.php?option=com_content&view=article&id=96:de-goni-dolores-nevares&catid=44:concert-guitarists-and-teachers&Itemid=63, Zugriff am 2. Mai 2012.
David K. Bradford, The Luthier and the Lady: Dolores de Goni and C.F. Martin, 2009, http://www.19thcenturyguitar.com/index.php?option=com_content&view=article&id=127&Itemid=72, Zugriff am 2. Mai 2012.
Bildnachweis
Ellison Fine Art Ref. Nr. 4243
Youtube, https://www.youtube.com/watch?v=991Jjw8mm00, Zugriff am 7. Sept. 2022.
Jannis Wichmann
© 2012 Freia Hoffmann