Thomas, Adelaide Louisa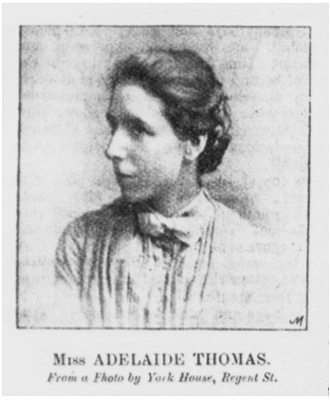 * 1. Mai 1861 in Clapham/London, Sterbedaten unbekannt, Pianistin und Komponistin. Sie studierte Klavier bei Ernst Pauer (1826−1905) und Musiktheorie bei Ebenezer Prout (1835−1909), John Frederick Bridge (1844−1924) und William Arthur Baker Russell (Lebensdaten unbekannt). Sie soll Studentin der "National Training School" in Kensington gewesen sein (Brown Brit). 1867 wirkte sie bei einem Konzert in Hanau als Pianistin mit. 1883 gab sie Klavierabende in London. In Oxford unternahm sie weitere musiktheoretische oder musikwissenschaftliche Studien: "1892 [she] passed the examination for Mus. Bac. [Bachelor of Music], Oxford, but was not allowed to take the degree" (Brown Brit). "[She] was refused the degree because she was a woman" heißt es dazu erklärend bei A. Laurence (Laurence, S. 12). Adelaide Thomas schrieb eine Klavierschule mit dem Titel "Royal Road to Pianoforte Playing" und erfand ein Notenpult, das man auf Stuhllehnen aufstecken konnte ("inventor of a new music-desk to be fixed on the backs of chairs", Warriner). 1894 gründete sie die Scientific Training School of Music. Sie komponierte mehrere geistliche Werke.
SCHRIFTEN
Royal Road to Pianoforte Playing (Klavierschule)
LITERATUR
Signale 1867, S. 902
Brown Brit, Warriner, Ebel, Cohen
Anya Laurence, Women of Notes. 1000 Women Composers born before 1900, New York 1978.
HB
© 2009 Freia Hoffmann