Benesch, Friederike, geb. Proch

* 1804 in Böhmisch Leipa (Česka Lipa), † 1872 (Ort unbekannt), Pianistin und Klavierlehrerin. Ihre Mutter war die älteste Tochter des Komponisten Vincenc Václav Maschek (1755–1831), von der sie auch Klavierunterricht erhielt. Weitere Lehrer waren Simon Sechter (1788–1867) und der Lehrer und Chordirektor Anton Herzog (1771–1850), der sie zusammen mit ihrem Bruder Heinrich im Generalbass und in der Komposition unterwies. Kurze Zeit nach der Geburt von Friederike Prochs Bruder, Heinrich Proch (1809–1878), verließ die Familie Wien, da der Vater "als Oberamtmann auf die Fürst Elzterhaysche [sic] Herrschaft Pottendorf berufen wurde" (Deutsche Arbeit 1909, S. 763). Durch den Kontakt zur Familie Esterházy, die als "musikliebende und musiktreibende Aristokratenfamilie bekannt" (ebd.) war, und die später fast wöchentlich stattfindenden Privatkonzerte der Eisenstädter Hofkapelle im Hause der Familie Proch wuchsen die Geschwister in einem sehr musikalischen Umfeld auf. Bei einem Privatkonzert war auch der junge Liszt mit seinem Vater zugegen. 1819 zog die Familie in die Wiener Neustadt.
Im April 1823 heiratete Friederike Proch den Geigenlehrer ihres Bruders, Joseph Benesch (1795–1873), mit dem sie 1823 nach Laibach übersiedelte. In den folgenden Jahren trat sie dort mehrfach auf und betätigte sich als Klavierlehrerin. 1824 wurde sie Ehrenmitglied der dortigen philharmonischen Gesellschaft. Ab 1830 war die Familie wieder in Wien ansässig, und es lassen sich weiterhin öffentliche Auftritte der Musikerin nachweisen, oft im Rahmen von Konzerten ihres Bruders oder ihres Ehemanns.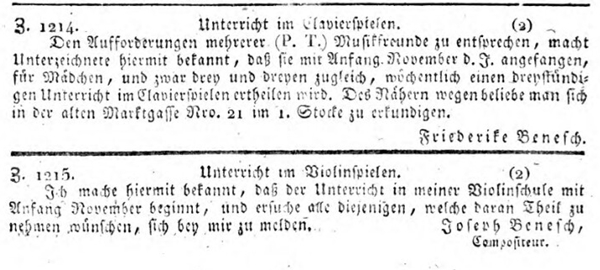 Werbeanzeigen der Eheleute Benesch 1823
1833 schreibt "Der Sammler" anlässlich eines Konzertes am 26. Dez. 1832 über den Vortrag des Konzertes d-Moll von Friedrich Kalkbrenner: "Fr. Benesch ist eine seltene Claviervirtuosinn. Mit den nöthigsten Eigenschften, nämlich: einer reinen Intonation, einem kräftigen, klangvollen, sicheren Anschlag, Geläufigkeit im Triller und einer Leichtigkeit in Überwindung großer Schwierigkeiten, verbindet sie eine Präcision, ein Gefühl des Vortrags, eine Fülle trefflicher Nuancen, so daß ihr Spiel […] einem hohen Grade von Vollendung sich anschließt." (Der Sammler 1833, S. 28). Im Jahr 1835 bestätigte Friederike Benesch "in einem C. Weber´schen Rondo ihren anerkannten Ruf als wackere Pianistin" (AmZ 1835, Sp. 379). Für den Vortrag des Grand Duo de couronnement (Henri Herz in der Bearbeitung von Théodor Labarre) mit der Harfenistin Therese Heilingmeyer 1840 in Wien wurde sie für "reinen Anschlag und korrekte Geläufigkeit" gelobt (Der Adler 1840, S. 1262). Zu ihrem Repertoire zählten u. a. Werke von Kalkbrenner, Ries, Herz und Weber.
1860 übernahm sie als Enkelin des Gründers die Geschäftsführung des Wiener Verlags C. Barth und gab diese später an ihren Sohn Walter Benesch ab.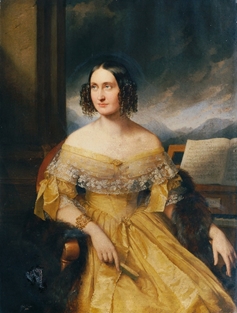 LITERATUR
Der Adler. Allgemeine Welt- und National-Chronik 1840, S. 1262
AmZ 1827, Sp. 892f.; 1833, Sp. 210, 569; 1835, Sp. 379
AWM 1848, S. 230
Deutsche Arbeit 1909, S. 763–765
Berliner AmZ 1830, S. 86
Castelli 1833, S. 75
Intelligenzblatt zur Laibacher Zeitung 17. Okt. 1823
Österreichischer Zuschauer 1836, S. 203
Österreichisch-ungarische Revue 1864, S. 146
Der Sammler. Ein Unterhaltungsblatt 1830 II, S. 602; 1833, S. 28, 203
Vereinigte Laibacher Zeitung 1823, 14., 21. Okt.
Der Wanderer 18. April 1833
Wiener Theaterzeitung (Bäuerle) 1832, 13. Dez.; 1833, 20. Apr., 1835, 12. Jan.
Wiener Zeitschrift für Kunst, Literatur, Theater und Mode 1832, S. 1248; 1836, S. 128, 152
Dritter Jahres-Bericht der philharmonischen Gesellschaft in Laibach vom 1. Jänner bis zum letzten December 1865, Laibach 1865.
Eduard Hanslick, Geschichte des Concertwesens in Wien, 2 Bde., Bd. 1, Wien 1869, Repr. Hildesheim [u. a.] 1979.
Murray G. Hall, Österreichische Verlagsgeschichte, 1918–1938: Belletristische Verlage der Ersten Republik, 2 Bde., Bd. 2, Wien 1985.
Sara Železnik, Solisti na koncertih Filharmonične družbe do leta 1872 [Soloists in concerts of the Philharmonic Society up to 1872], Ljubljana 2013.
Bildnachweis
Vereinigte Laibacher Zeitung 14. Okt. 1823 (Anzeige).
Gemälde von Eduard Ender, 1840, Sammlung online der Österreichische Galerie Belvedere in Wien,
https://sammlung.belvedere.at/objects/3923/friederike-benesch.
JW/CB
© 2006/2022 Freia Hoffmann