Boucher, Céleste (Eleonore), geb. Gallyot, Calliot, Gaiot, Gailyot
*um 1776 (vermutlich in Paris), † Febr. 1841 in Paris, Harfenistin, Pianistin, Instrumentallehrerin und Komponistin. Ihre musikalische Ausbildung erhielt sie bei dem Harfenbauer und -lehrer Jean-Henri Naderman (1735–1799). Im Alter von acht Jahren befand sich Céleste Gallyot bereits als Pianistin und Harfenistin – in Gesellschaft der Prinzessin Marie Thérèse Charlotte (1778–1851) – am Hof Ludwigs XVI. in Versailles. Zwischen 1788 und 1820 war sie am Hof König Karls IV. von Spanien als erste Pianistin bzw. Harfenistin sowie als Musiklehrerin der Infantin angestellt.
In der Zeitschrift "The Quarterly Musical Magazine and Review" (1820, S. 516) wird Céleste Boucher neben Marie Simonin-Pollet und Aline Bertrand für das Jahr 1820 als Professorin für Harfe am Pariser Konservatorium aufgeführt.
Ihre Konzerttätigkeit ist nur lückenhaft überliefert. Einer der ersten öffentlichen Auftritte erfolgte am 10. Juli 1790 in der Salle de Musée in Bordeaux, in dessen Rahmen Céleste Gallyot ein Harfenkonzert vortrug. Vier Jahre später gab sie zusammen mit ihrem zukünftigen Mann, dem Violinisten Alexandre-Jean Boucher (1770–1861), ein vielbeachtetes Konzert im Pariser Théâtre Feydeau. 1805 spielten sie zusammen in Brüssel. Im Frühjahr 1805 folgten drei weitere Konzerte in Spanien. Neben Alexandre-Jean Boucher war hier auch dessen Lehrer Julien Navoigille beteiligt.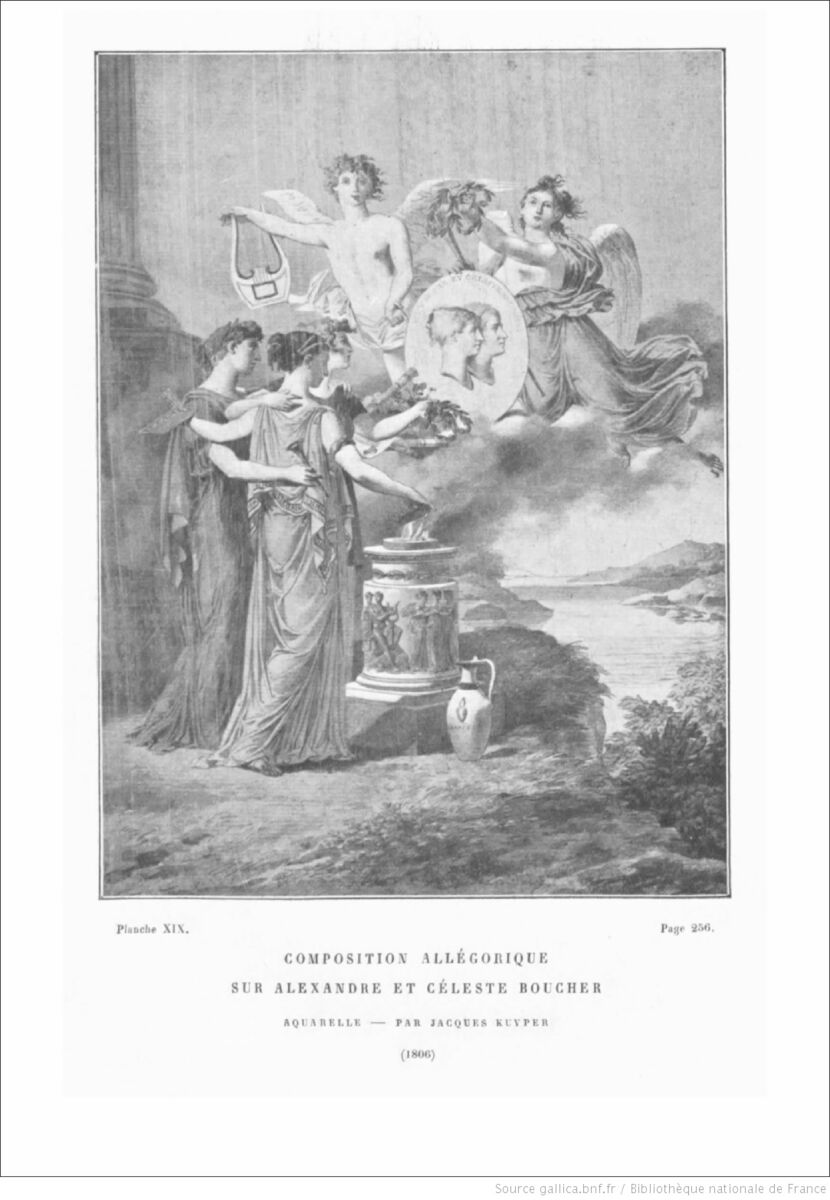 1809 heiratete die Musikerin in Paris Alexandre-Jean Boucher (1778–1861). 1812 wurde die gemeinsame Tochter Celeste Honorine, später verh. Cendrier geboren (1812–1887). In den folgenden Jahren unternahmen Céleste und Alexandre Boucher gemeinsam Konzertreisen, die sie nach Großbritannien (1814 und 1819), Deutschland (1821/22), Österreich (1822), Polen (1823), in die Ukraine (1823) und nach Russland (1823/24) führten. Während der Aufenthalte in Deutschland nahm das Künstlerpaar unter anderem an den Sonntagsmusiken im Hause Mendelssohn teil.
Innerhalb ihrer Konzerte traten die Eheleute sowohl zusammen als auch solistisch auf. Besonderes Aufsehen erregte vor allem das gleichzeitige Spielen Céleste Bouchers auf der Harfe und dem Klavier – sie spielte "die Harfe mit der Linken, und das Fortepiano mit der Rechten" (Morgenblatt für gebildete Leser 1822, S. 556) – , was sie häufig anhand eines selbstkomponierten konzertanten Duettes für Klavier und Harfe präsentierte. In Konzertkritiken wird diesbezüglich wiederholt die "Gleichmäßigkeit des Spiels bey gänzlicher Verschiedenheit der Applikatur beyder Instrumente" (AmZ 1821, Sp. 350) hervorgehoben. Im Gegensatz zum künstlerischen Auftreten ihres Mannes, das als äußerst exzentrisch beschrieben wird, galt Céleste Boucher als eine "sehr angenehme und solide Spielerin, welche ihr Instrument mit Verstand und Gefühl beherrscht" (AmZ 1822, Sp. 308). Musikalisch bescheinigt ihr die Presse darüber hinaus "Präcision, Fertigkeit und seelenvollen Ausdruck. Die Kraft und Richtigkeit in brillanten Passagen geben ihrem Spiel etwas Pompöses, indess die Flüchtigkeit der Finger wirklich Bewunderung erregt" (Wiener AmZ 1822, Sp. 298). Goethe, der im Febr. 1823 ein Konzert des Künstlerpaares besuchte, zeigte sich derart beeindruckt von der musikalischen Leistung, dass er eine Empfehlung für beide an den Musikkritiker Rochlitz in Leipzig sowie an seinen Musikfreund Zelter in Berlin verfasste. Auch in den von Zelter an Goethe gerichteten Briefen finden die Konzerte des Ehepaares wiederholt Erwähnung.
Das Repertoire von Céleste Boucher und ihrem Mann umfasste Werke Mozarts, Glucks, Kalkbrenners, Rossinis, Viottis, Steibelts und Moscheles'. Vielfach arbeitete Céleste Boucher die Kompositionen für die eigene Aufführungspraxis um.
Nach 1828 beendeten Céleste und Alexandre-Jean Boucher ihre Konzerttätigkeit. Zu diesem Zeitpunkt lebten sie mit ihren Söhnen in Paris. Hier konzentrierten sie sich fortan auf das Erteilen von Instrumentalunterricht sowie die Veranstaltung regelmäßiger musikalischer Morgenunterhaltungen, zu denen sich "eine auserlesene Gesellschaft Künstler und Liebhaber einfand" (AmZ 1827, Sp. 571).
WERKE FÜR HARFE
Konzert für Pedalharfe in Es-Dur; Konzertantes Duett für Pedalharfe und Pianoforte; Konzertantes Duett für Pedalharfe und Violine; Introduktion, Variation und Rondo für Pedalharfe und Violine mit Orchesterbegleitung; Variationen über russische Themen
LITERATUR
AmZ 1817, Sp. 126; 1820, Sp. 433; 1821, Sp. 212f., 350, 387ff., 388, 400f., 510, 630, 712; 1822, Sp. 40, 118f., 291, 308, 357f., 464, 755; 1823, Sp. 220, 225ff.; 1824, Sp. 247, 350; 1827, Sp. 571; 1827, Sp. 571
Bock 1864, S. 317
Le Figaro 27. März 1826, S. 3; 17. Nov. 1826, S. 3; 25. Sept. 1826, S.3; 3. Sept. 1828, S. 3
Le Ménestrel 1841, 28. Febr., NP
The Monthly Musical Record 1892, 1. Febr.
Morgenblatt für gebildete Leser 1822, S. 556
MusW 1857, 28. Febr.
Niederrheinische Musik-Zeitung 1863, S. 254
The Quarterly Musical Magazine and Review 1820, S. 516
Réunion des sociétés des beaux-arts des départements 1905, S. 252
RGM 1841, S. 127
Revue de Paris1845, S. 181, 206, 215
Vierteljahresschrift für Musikwissenschaft 2 (1890), S. 282–284
Wiener AmZ 1821, Sp. 324; 1822, Sp. 297
Wiener Zeitschrift 1821, S. 715f.
Zeitung für die elegante Welt [Leipzig] 1821, Sp. 839
Gerber 3, Chor/Fay, Sainsbury, Schilling, Schla/Bern, Mendel, Grove 1, MGG 1
Frédéric Jules Faber, Histoire du théâtre français en Belgique, depuis son origine jusqu'à nos jours, d'après des documents inédits reposant aux archives générales du royaume, 5 Bde., Bd. 2 u. 3 (1878–1880), Brüssel o. J.
Felix Delhasse, Annuaire dramatique de la Belgique, Bd. 2, o. O. 1842.
Édouard Georges Jacques Gregoir, Panthéon musical populaire, 6 Bde., Bd. 4, Anvers 1876.
Herluison u. P. Leroy, "Le violoniste Alexandre Boucher", in: Réunion des sociétés savants des départements à la Sorbonne. Section des beaux-arts 1905, S. 249–268.
Louis Spohr, Lebenserinnerungen. 2 Bde., Bd. 2, Berlin 1819, Repr. Tutzing 1968.
Karl-Heinz Köhler und Grita Herre (Hrsg.), Ludwig van Beethovens Konversationshefte, 11 Bde., Bd. 2, Leipzig 1976.
Joel Sachs, Kapellmeister Hummel in England and France (= Detroit monographs in musi­cology 6), Detroit 1977.
Eduard Hanslick, Geschichte des Concertwesens in Wien, 2 Bde., Bd. 1, Wien 1869, Repr. Hildesheim [u. a.] 1979.
Johann Wolfgang Goethe, Sämtliche Werke, Briefe, Tagebücher und Gespräche, hrsg. von Dieter Borchmeyer, 40 Bde., Bd. 9, Frankfurt a. M. 1985.
Hans-Günter Klein, Das verborgene Band, Felix Mendelssohn Bartholdy und seine Schwester Fanny Hensel. Ausstellung der Musikabteilung der Staatsbibliothek zu Berlin – Preussischer Kulturbesitz zum 150. Todestag der beiden Geschwister, 15. Mai bis 12. Juli 1997, Wiesbaden 1997.
Patrick Taïeb u. Natalie Morel-Borotra, Le Musée de Bordeaux et la musique: 1783-1793, Mont-Saint-Aignan 2005.
Lorraine Byrne Bodley, Goethe and Zelter: musical dialogues, Farnham u. a. 2009.
Eberhard Steindorf, Die Konzerttätigkeit der Königlichen musikalischen Kapelle zu Dresden (1817–1858). Institutionsgeschichtliche Studie und Dokumentation (= Dresdner Schriften zur Musik 11), Baden-Baden 2018.
Bildnachweis
Herluison u. P. Leroy, "Le violoniste Alexandre Boucher", in: Réunion des sociétés savants des départements à la Sorbonne. Section des beaux-arts 1905, S. 249–268, hier S. 256.
Annkatrin Babbe
© 2009/2022 Freia Hoffmann