Neufville, Louise Charlotte de, geb. Ritter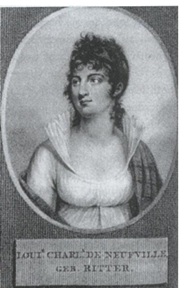 * 1779 in Amsterdam, † 1859 in Den Haag, Pianistin, vermutlich auch Harfenistin. Ihr Vater war der Kunstmaler G. N. Ritter (1748–1809). Sie war Schülerin von Neumann, Anton Fodor (1759–1846) und Jan Willem Wilms (1772–1847). "Son éducation soignée et ses dispositions remarquables comme musicienne la placèrent au premier rang des pianistes de son pays. Dans un grand nombre de concerts elle a émerveillé l'auditoire par une exécution puissante et gracieuse à la fois" ("Ihre sorgfältige Ausbildung und ihre bemerkenswerten Talente als Musikerin verschafften ihr einen ersten Rang unter den Pianisten ihres Landes. In zahlreichen Konzerten hat sie ihr Publikum mit ihrem kraftvollen und zugleich anmutigen Spiel in Erstaunen versetzt", Gregoir). Nach Kobus spielte sie neben Klavier auch Harfe. Im Alter von elf Jahren komponierte sie Variationen über ein Menuett aus Don Giovanni. Diese legte man Joseph Haydn vor, der sich beeindruckt zeigte. Wahrscheinlich handelte es sich bei der Madlle Ritter, die 1801 bei der Felix Meritis Gesellschaft in Amsterdam ein Klavierkonzert von Steibelt vortrug, um Louise Charlotte Ritter. 1802 – sie war 14 Jahre alt – heiratete sie den wesentlich älteren Kunstmaler französischer Herkunft Pierre de Neufville (1762–1844). Der Wiener Pianist Joseph Wölfl (1773–1812) besuchte Louise de Neufville 1805 in Amsterdam und schrieb einige bewundernde Zeilen über sie in ihr Album.
Die Kritik über ein Konzert, das die Pianistin 1814 in Amsterdam gab, fiel ambivalent aus: "Mad. de Neufville, Dillettantin, besitzt eine ausserordentliche Fertigkeit: ihr ist nichts zu schwer, und in dieser Rücksicht kann sie sich mit den grössten Klavierspielern messen. Man vermisst aber bey ihr den zarten Ausdruck, welcher den Virtuosen, am meisten aber den weiblichen, eigen seyn sollte" (AmZ 1814, Sp. 438). 1815 spielte sie neben einem Klavierkonzert von Ries auch eigene Variationen über Freut euch des Lebens. "Diese Var. gehören sicher unter das Schwierigste, was für dies Instrument jemals geschrieben worden: die sehr geschickte Virtuosin überwand dennoch alles mit Leichtigkeit" (AmZ 1815, Sp. 319). Die Variationen wurden später von ihr veröffentlicht. 1816 wirkte sie in Amsterdam im Konzert der Liebhaber-Gesellschaft Harmonica mit. Neben ihren musikalischen Aktivitäten war sie als Malerin von Miniaturen tätig. Später brach sie ihre musikalische Karriere ab und widmete sich ganz der Malerei.
Bis 1820 lebte sie in Amsterdam, danach für kurze Zeit in Brüssel, bevor sie sich in Den Haag niederließ, wo sie 1859 starb. Eine ihrer Töchter wurde später Klavierlehrerin in Antwerpen.
Louise Charlotte de Neufville war eine der ersten bekannten niederländischen Pianistinnen. Für Niederländerinnen war es in der ersten Hälfte des 19. Jahrhunderts kaum möglich, als professionelle Instrumentalistinnen tätig zu sein. Obwohl Louise Charlotte de Neufville einen Ruf als hervorragende Pianistin genoss, blieb sie doch Dilettantin (d. h. sie konzertierte nicht gegen Bezahlung) und widmete sich später nur noch der Miniaturmalerei, einer Tätigkeit, die gut ins häusliche Betätigungsfeld der bürgerlichen niederländischen Frau passte. Ihr Repertoire umfasste neben eigenen Variationen u. a. Werke von Ries und Steibelt.
Der Niederländische Dichter Pieter Pijpers widmete ihr ein Gedicht, in dem er ihren künstlerischen und musikalischen Talenten huldigt.
WERKE FÜR KLAVIER
Variationen
LITERATUR
AmZ 1814, Sp. 438; 1815, Sp. 319; 1816, Sp. 451
Edouard G. J. Gregoir, Biographie des artistes-musiciens néerlandais des XVIIIe et XIXe siècles, Antwerpen 1864.
Jan C. Kobus, Beknopt biographisch woordenboek van Nederland, Zuthpen 1857.
Helen Metzelaar, From Private to Public Spheres. Exploring Women's Role in Dutch Musical Life from c. 1700 to c. 1880 and Three Case Studies, Utrecht 1999.
Bildnachweis
Porträt von Louis Portman, Metzelaar S. 83
AH
© 2009 Freia Hoffmann