Greenhead, Sophie Angeline, Sophia (Künstlername: Sophie Angeline)
* 1847 in Hurstbourne Tarrant (Hampshire), † 1925 in Kent, Flötistin und Pianistin. Sophie Angeline war das sechste von acht Kindern des Arztes Charles Greenhead (1782−1871) und seiner Frau Mary Greenhead (1811−1896). Alle Kinder wurden an Instrumenten und teils sängerisch ausgebildet: Isabella Maria ("Marie", um 1830−1923) am Violoncello, Sara ("Zara", um 1833−1913) an der Geige und am Kornett, Mary Elizabeth ("Lizzie", 1838–?) am Pianoforte, Charles Edward (1842−1929) an der Viola, Emma Miranda (1844−1944) am Flageolett, an Geige und Viola, Henry Tom (1849­−1926) am Kornett und George Everard (1851−1924) am Kontrabass. Als die Familie in den 1860er Jahren in Folge von Finanzspekulationen in Geldschwierigkeiten geriet, bildeten die acht Geschwister unter dem Namen "Cremona Musical Union" ein Ensemble, das spätestens von 1867 an in London und den Provinzen zahlreiche Unterhaltungskonzerte bestritt.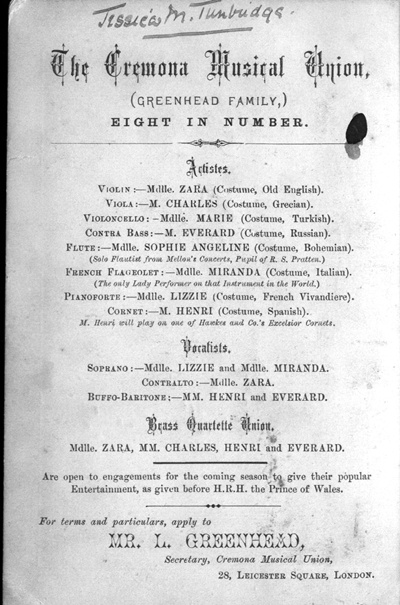 Zuvor auf der Flöte von Robert Sidney Pratten (1824−1868) ausgebildet, debütierte Sophie Angeline Greenhead am 15. Sept. 1866 in einer Konzertreihe Alfred Mellons im Covent Garden Theatre unter dem Künstlernamen Sophie Angeline, den sie auch in der Zukunft meist beibehalten sollte. In der Besprechung der "Musical World" wird der Veranstalter als "true believer in novelty" charakterisiert, der klingende Namen wie Emile Sauret, Marie Krebs und Carlotta Patti bevorzuge und nun "a new lady flautist" präsentiere (MusW 1866, S. 605). Sophie Angeline "was received with marked favour" (ebd.) und trat anschließend, wie Anzeigen in verschiedenen Tageszeitungen belegen, "every evening at eight" in den "Mellon's Concerts" mit einem anspruchsvollen gemischten Programm und zahlreichen Mitwirkenden auf. Am 5. Dez. 1867 ist ein Konzert in Newport (Isle of Wight) dokumentiert: "Considerable curiosity was manifested when Mdlle. Angeline came to perform her part. Her playing was excellent, and delighted her audience, by whom she was frequently applauded" (Hampshire Telegraph 11. Dez. 1867). Im Juni des folgenden Jahres trat Sophie Angeline im jährlichen Konzert von Frank Elmore in den Londoner Hanover Square Rooms auf.
Anfang Apr. 1867 ist erstmals ein gemeinsamer Auftritt mit dem Familienorchester "Cremona Musical Union" belegt, und vom Frühjahr 1870 an scheint sie nur noch in diesem Ensemble tätig gewesen zu sein. Die Geschwister warben mit Attraktionen wie der "Grand International Fantasia in Elaborate Costumes of all Nations" und einer "Grand Nautical Selection, in Characteristic Costumes". "Mdelle Zara (violin), Mdlle. Marie (violoncello), Mdlle Sophie Angeline (flute), Mdlle Miranda (flageolet)" wurden in den Anzeigen besonders hervorgehoben, und von der letzteren wurde behauptet, sie sei "the only Lady Performer on that Instrument in the world" (Western Mail 12. Mai 1875). Auf diese Weise war das Publikumsinteresse für viele Jahre gesichert, und die "Cremona Musical Union" (später umbenannt in "Magnificent Cremona Orchestra") konnte bis mindestens 1889 in über 35 Städten gastieren, von Aberdeen im Norden Schottlands bis Christchurch an der Südküste der Insel. Das Solorepertoire der Flötistin ist nicht ermittelbar, mit Ausnahme des Carnevale di Venezia op. 78 von Giulio Briccialdi und Variations sur un air tyrolien op. 20 von Theobald Böhm.
Öffentliche Auftritte als Pianistin sind nur gelegentlich belegt: 1866 teilt die "Musical World" mit, Sophie Angeline habe "solos on the piano and flute" gespielt (MusW 1866, S. 704), und die "Musical Times" erwähnt für den 5. Dez. 1867 im Konzert von New Port eine "Pianoforte performance by Mdlle. Sophie Angeline" (MusT Jan. 1868, S. 266).
Für ergänzende Informationen bedanken wir uns bei Aubrey Slaughter, einem Nachfahren der Familie.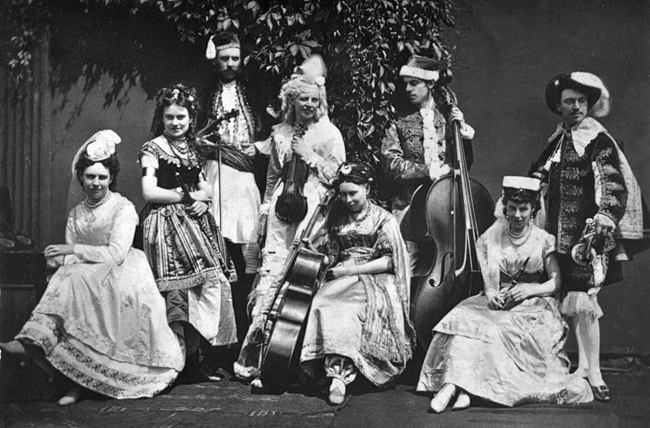 Cremona Musical Union, undatierte Photographie
LITERATUR
Mail von Aubrey Slaughter vom 23. März 2015 an die Verf.
The Bury Free Press [Bury St. Edmunds] 1880, 13. Nov.
The Era [London] 1866, 16. u. 23. Sept.; 1872, 28. Juli; 1873, 14. Sept.; 1874, 30. Aug., 13., 27. Sept., 18. Okt.; 1875, 17. Jan., 12. Dez.; 1876, 9. Jan., 27. Febr., 18. Juni
Hampshire Telegraph and Sussex Chronicle [Portsmouth] 1867, 11. Dez.; 1870, 28. Mai
The Hull Packet and East Riding Times 20. Febr. 1874
Jackson's Oxford Journal 1871, 7., 14. Okt.; 1877, 23. Juni
Liverpool Mercury 14. Aug. 1875
Musical Standard 1873 II, S. 227; 1876 II, S. 286; 1878 I, S. 322; 1886 II, S. 177
MusT 1868, Jan., S. 266; 1887, Nov., S. 669
MusW 1866, S. 605, 704; 1868, S. 453
NZfM 1866, S. 402
North Wales Chronicle [Bangor] 1876, 2., 9. Sept.
The Orchestra 1867, Apr., S. 19, 67; 1868, Juni, S. 177
The Pall Mall Gazette 1866, 15., 19. Sept.
The Surrey Advertiser and County Times 1872, 13. Jan.
The Watford Observer 1871, 12., 26., 29. Aug., 2., 9. Sept.
Western Mail [Cardiff] 1875, 12., 13. Mai
Marco Bragazzi, "Cremona testimonial musicale. Nell'Inghilterra vittoriana l'ensemble intitolato alla città", in: La Provincia di Cremona 25. Sept. 2013.
Bildnachweis
Familienbesitz Aubrey Slaughter, mit freundlicher Genehmigung
Freia Hoffmann
© 2015 Freia Hoffmann