Hohnstock, Adele, Adèle
* 1832, aus Braunschweig stammend, † 17. (23.?) Jan. 1856 in Philadelphia/PA, Pianistin und Komponistin. Sie war eine Schülerin Sigismund Thalbergs. Erstmals war von ihr Ende 1846 zu hören, als sie mit ihrem jüngeren Bruder, dem Violinisten Carl Hohnstock, in der Grafschaft Limburg auftrat. Noch im Dez. desselben Jahres spielten die Beiden auch in Münster. Im folgenden Jahr gaben sie in Bremen und anderen Städten des deutschsprachigen Raumes Konzerte. Bei Auftritten in Paris im Jahre 1847 erregte das Geschwisterpaar große Aufmerksamkeit und verkehrte mit Musikern wie Spontini, Halevy, Auber und Hallé. 1848 unternahmen die Hohnstocks eine offenbar sehr erfolgreiche Kunstreise durch Holland (u. a. in Amsterdam). Weitere Auftritte sind 1848 in Hamburg, Köln, Berlin und Paris nachgewiesen. Noch im Revolutionsjahr wandten sich die Geschwister nach Nordamerika: "The troubles in Europe are driving crowds of musical and other artists to our peaceful and prosperous shore. […] The celebrated artists, Miss Adele and Mr Charles Hohnstock (brother and sister) solo virtuoso to the Duke of Brunswick, will arrive in about a fortnight" (Boston Evening Transcript 13. Nov. 1848).. Die "Signale für die musikalische Welt" berichten im Mai 1849: "Das Geschwisterpaar Fräulein Adele und Herr Carl Hohnstock hat sich mit Herrn und Frau Laborde, welche in der italienischen Oper zu New York stets mit dem größten Beifall aufgenommen wurden, vereinigt, um eine große Kunstreise durch die Vereinigten Staaten zu machen" (Signale 1849, S. 199). 1848 und 1849 lassen sich Konzerte der Geschwister in New York, Bosten, Philadelphia, Baltimore und Washington D.C. nachweisen.
Die Geschwister Hohnstock folgten dem im 19. Jahrhundert weit verbreiteten Typus des gemeinsam auftretenden Geschwisterpaares, wie ihn beispielsweise auch die Brüder Eichhorn oder die Schwestern Milanollo, Ferni und Delépierre repräsentierten. Die Konzerte der Hohnstocks enthielten, neben den obligatorischen Vokalanteilen Dritter, sowohl Solobeiträge beider Geschwister als auch gemeinsames Duo-Spiel. Soweit erkennbar, führte Adele Hohnstock insbesondere gängige Virtuosenliteratur ihrer Zeit auf, etwa Werke von Thalberg und Charles Mayer.
Mit ihrem Bruder spielte sie beispielsweise Opernparaphrasen, aber etwa auch Klavier-Violinsonaten Beethovens. Für ihre Fähigkeiten erhielt sie von den Musikkritikern Lob: "Selbst die äußerst schwierige Variation [Thalbergs] in chromatischen Septenläufen ging neben dem rein durchklingenden Thema mit der größesten [sic] Sicherheit u. Präcision […]. Besonderer [sic] Erwähnung verdient noch ihr perlender, Kraft u. Zartheit verbindender Anschlag, so wie die immer durchsichtige Klarheit ihres Spieles, selbst in den verwickelsten Passagen" (Kölnische Zeitung 12. Febr. 1848).
Nach dieser Reise sind die Geschwister in den USA geblieben. 1861 konzertierte Carl Hohnstock, "der vor etwa 12 Jahren nach Amerika übersiedelte und seit kurzem nach der Heimath zurückgekehrt ist" (Signale für die musikalische Welt 1861, S. 77), ohne seine Schwester wieder in Braunschweig.
In der Zeit von 1849 bis 1855 publizierten die Geschwister in Philadelphia, New Orleans und New York eigene Kompositionen. Von Adele Hohnstock sind bemerkenswerterweise ausschließlich Polkas überliefert, die meisten technisch sehr anspruchsvoll. Ihre Concert Polka (1849) muss ein besonderer Erfolg gewesen sein. Sie erschien sowohl als hochvirtuose Konzertfassung (Hohnstock Concert Polka with Variations, 1849) und bis ins Jahr 1875 hinein in technisch weniger anspruchsvollen Bearbeitungen sowie in einer Fassung für Klavier zu vier Händen. Das Werk war zudem Sujet eigenständiger Kompositionen (so etwa Ferdinand Burgmüllers Variationen über Adele Hohnstock's Concert-Polka und D. Krugs Variationen über Hohnstock's Concert-Polka op. 24, jeweils für Klavier). Die Komponistin selbst arrangierte ihre Polka noch einmal als Hohnstock's favorite Concert Polka (1849): "As performed with great applause at all their Concerts" heißt es auf dem Titelblatt dieses Werkes.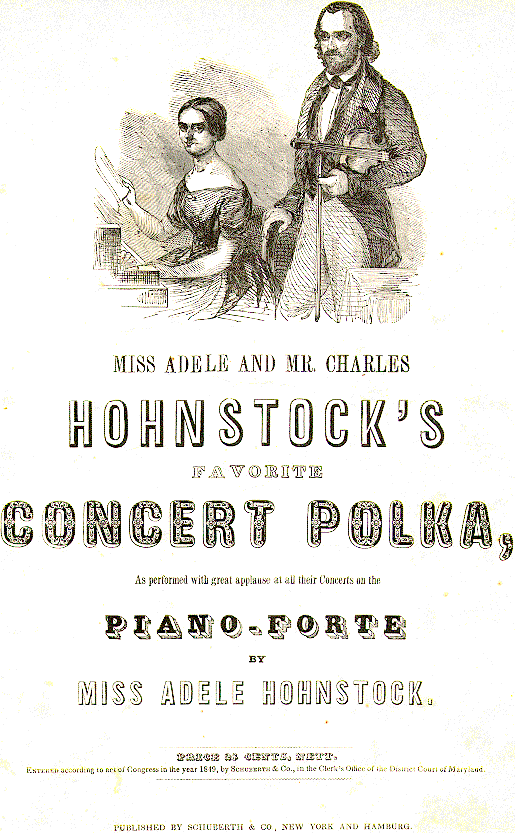 WERKE FÜR KLAVIER
Concert Polka, in verschiedenen Arrangements:
Hohnstock's favorite Concert Polka (New York [u. a.]: Schuberth & Co 1849)
The Favorite Hohnstock-Polka (Philadelphia: Lee & Walker [u. a.] o. J.). Identisch mit dem zuvor genannten Arrangement, andere Edition
Hohnstock Concert Polka with Variations (Philadelphia: A. Fiot 1849)
Hohnstock's Polka. Arr. von Charles Grobe für Klavier zu vier Händen (Philadelphia: Lee and Walker 1850)
Hohnstock Polka. Arr. von E. Mack (Philadelphia: Lee and Walker 1875)
Grande Polka fantastique (Arr. der Polka von V. A. Schmidt, Charleston: E. L. Walker 1850)
Le Diamant. Polka brillante, op. 7 (Philadelphia: G. André 1854)
La Gracieuse. Polka de Salon (Philadelphia: G. André 1855)
Sentimental Polka (Philadelphia: E. L. Walker 1855)
LITERATUR
AmZ 1847, Sp. 438; 1848, Sp. 718, 777
AWM 1847, S. 130; 1848, S. 130
Bock 1848, S. 39, 63; 1849, S. 70
Boston Evening Transcript 1848, 13. Nov., 1849, 30. Jan.
CaeciliaNL 1848, S. 4
Daily National Intelligencer [Washington/DC] 1849, 19., 20., 22. Febr., 6., 10., 19., 20., 24. März, 25., 26., 27., 28. Apr., 1., 2. 10. Mai
Deutsch-amerikanische Didaskalia 1848, S. 476
Didaskalia oder Blätter für Geist, Gemüth und Publizität [Frankfurt a. M.] 11. Febr. 1848
Gaillard 3. Apr. 1847
The Golden Rule. Gazette of the Union 1849 I, S. 17
Kölnische Zeitung 1848, 28. Jan., 8., 12. Febr.
Münsterisches Intelligenzblatt 16. Dez. 1846
North American and United States Gazette [Philadelphia/PA] 1849, 18., 31. Jan., 5. Febr.
NZfM 1848 I, S. 35
New York Weekly Review 1856, S. 33f.
Oeffentlicher Anzeiger für die Grafschaft Limburg [Iserlohn] 1846, 5., 9., 12. Dez.; 1847, 2., 9. Jan.
Oesterreichisches Theater- und Musik-Album 1847, S. 244
The Sun [Baltimore] 1849, 2., 3., 6., 7., 9., 10., 12., 13., 19., 23. Febr., 2. Apr.
Signale 1847, S. 367; 1848, S. 53, 66, 341; 1849, S. 78, 199
Westfälischer Merkur [Münster] 27. Febr. 1848
Fétis (Art. Hohnstock, Charles)
Karl Gollmick, Handlexicon der Tonkunst, Offenbach 1857
American Memory Library of Congress, http://memory.loc.gov/ammem/mussmquery.html, Suchbegriff "Adele Hohnstock", Zugriff am 11. Jan. 2008.
The University of North Carolina at Chapel Hill. 19th Century American Sheet Music Digitization Project,http://www.lib.unc.edu/music/eam/index.html, Suchbegriff "Hohnstock", Zugriff am 11. Jan. 2008.
https://de.findagrave.com/memorial/148058005/adele-hohnstock, Zugriff am 10. März 2023.
Bildnachweis
Adele Hohnstock, Hohnstock's favorite Concert Polka, New York 1849, Titelblatt.
HB/VT
© 2008/2023 Freia Hoffmann