Pokorny, Pokorni, Beate
Lebensdaten unbekannt, vermutlich aus Böhmen stammend, Hornistin. Die von Lipowsky 1811 mitgeteilte und von vielen Musiklexika des 19. Jahrhunderts übernommene Information, Beate Pokorny sei eine Tochter Franz Xaver Pokornys (1729–1794), trifft nicht zu.
Sie spielte am 24. Dez. 1779 in einem Concert spirituel in Paris ein Hornkonzert von Giovanni Punto (d. i. Johann Wenzel Stich). Das Außergewöhnliche dieses Auftritts belegt noch 120 Jahre später Constant Pierre in seiner "Histoire du concert spirituel": "Quant aux amateurs de 'nouveautés', ils trouvèrent satisfaction dans une exhibition aussi peu commune autrefois qu'aujourd'hui où pourtant les excentricités ne sont pas précisément rares. Ils purent entendre une femme, Mlle Pokorny, jouer un concerto de cor de chasse de Punto, avec des sons 'charmants et justes', qui la firent applaudir. Cela se passait en 1779" ("Was die Liebhaber von Novitäten angeht, fanden sie Befriedigung in einer Vorstellung, die in früheren Zeiten ebenso ungewöhnlich war wie sie es heute ist, wo immerhin die Exzentrizitäten nicht gerade selten sind: Sie konnten eine Frau, Dem. Pokorny, ein Hornkonzert von Punto blasen hören, mit 'hübschen und ordentlichen' Tönen, die ihr Beifall einbrachten. Dies geschah 1779", Pierre, S. 215). Ungewöhnlich an diesem Konzert war auch die Besetzung, denn es wirkten mit der Flötistin Mlle. Mudrich, der Pianistin Mlle. Cécilie, sowie der Harfenistin Mlle. Steckler noch eine Reihe weiterer Instrumentalistinnen mit. Michel Brenet zufolge fand in Paris 1880 noch ein weiterer Auftritt der Hornistin statt, bei dem erneut die Flötistin "Mlle Mudrich" (S. 332) teilnahm.
Im Juni und Juli 1780 finden sich zwei Konzertanzeigen in der Londoner "Morning Post". Es überrascht, dass in beiden Annoncen jeweils zwei Hornistinnen angekündigt werden. Danach spielten am 2. Juni 1780 im Londoner Carlisle House (am Soho Square) "several performers who never appeared in England. Amongst whom are the two celebrated Miss Pokornys, who will blow several Concertos and Duets on the French Horn" (Morning Post and Daily Advertiser 2. Juni 1780). Am 5. Juli kündigte dasselbe Blatt ein Konzert in "Mr. Greenwood's Rooms, top of the Haymarket" an, "for the Benefit of Signora D'ALECHAMPS, and Signora POKORNI, two young Ladies, performers on the French Horn" (Morning Post and Daily Advertiser 5. Juli 1780). Wer diese zweite Hornistin war und wie es zu den differierenden Namen kam, ist derzeit nicht aufzuklären.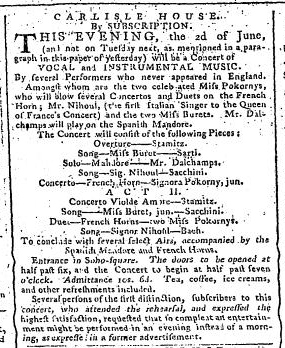 Programm des ersten in London nachweisbaren
Konzerts, 1780.
LITERATUR
Mercure de France 1780, S. 32
Morning Post and Daily Advertiser [London] 1780, 2. Juni, 5. Juli
Meusel, Gerber 1, Chor/Fay, Lipowsky (Art. Pockorny, Franz Xaver), Gerber 2 Anhang (Art. Pokorny, Franz Xaver), Dlabacz, Schilling (Art. Pokorny, Franz Xaver), MGG 2000 (Art. Pokorny, Franz Xaver), New Grove 2001 (Art. Pokorny, Franz Xaver)
Joseph Anton von Riegger, Materialien zur alten und neuen Statistik von Böhmen, 12 Bde., Bd. 12, Leipzig u. Prag 1794.
Michel Brenet [d. i. Marie Bobillier],
Les concerts en France sous l'ancien régime
, Paris 1900, Repr. New York 1970.
Reginald Morley-Pegge, The french horn. Some notes on the evolution of the instrument and of its technique, London u. New York 21973.
Constant Pierre, Histoire du concert spirituel 1725–1790, Paris 1975.
Freia Hoffmann, Instrument und Körper. Die musizierende Frau in der bürgerlichen Kultur, Frankfurt a. M. u. Leipzig 1981.
Bildnachweis
Morning Post and Daily Advertiser 2. Juni 1780
FH/VT
© 2008 Freia Hoffmann