Plunket, Plunkett, Elizabeth (Catherine), verh. Devenish
1725 in Dublin, † 28. Mai 1744 im Londoner Stadtteil East-Acton, Violinistin. Sie war Schülerin des ebenfalls aus Irland stammenden Geigers und Komponisten Matthew Dubourg (1707–1767). Nach Sarah Ottey war Elizabeth Plunket wohl die erste Geigerin, die auf den britischen Inseln öffentlich aufgetreten ist. Soweit bekannt, konzertierte sie erstmals öffentlich im Febr. 1740 in der Dubliner Crow Street Music Hall. Ebenfalls in Dublin gab sie im Dez. 1742 ein Wohltätigkeitskonzert in der Fishamble Street Music Hall, bei dem sie "several new Solos and Concertos on the Violin" spielte (Faulkner's Journal, 6. Dez. 1842, zit. nach MusT 1906, S. 662). Nach dem Konzert war in "Faulkner's Journal" zu lesen: "Yesterday evening Miss Plunket had her first concert at the Musick Hall in Fishamble Street, at which there was a most polite and numerous audience, who were all charmed with her Performance on the Violin, and gave her universal applause" (Faulkner's Journal, 7. Dez. 1842, zit. nach MusT 1906, S. 662). Nach weiteren Studien bei Dubourg begab sie sich nach London, wo sie im Jan. und Febr. 1744 im Haymarket Theatre konzertierte. Danach verblieb sie in London und heiratete. Schon im Mai desselben Jahres verstarb sie. "On Monday the 28 th past died, at her Lodgings in East-Acton, Mrs. Elizabeth Devenish, formerly known by the Name of Miss Plunket; a Lady so much celebrated for her wonderful Performance on the Violin, and one who was endow'd with every good Quality becoming her Sex, that her death is greatly lamented by all who knew her" (London Evening Post, 5. Juni, General Advertiser, 8. Juni 1744).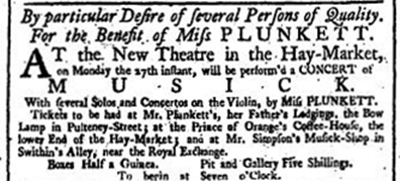 Konzertanzeige aus dem Daily Advertiser, 24. Febr. 1744.
LITERATUR
Daily Advertiser [London] 1744, 17., 21., 24., 27. Jan., 20., 22., 24., 27. Febr.
London Daily Post and General Advertiser 1744, 16., 18., 20., 21., 25., 27. Jan., 14.., 18., 21., 23., 25., 27. Febr., 5. Juni
London Evening Post 1744, 8. Juni
F. G. E., "Lady Violinists", in: MusT (1906), S. 662–668, S. 735–740.
Black's dictionary of music and musicians. Covering the entire period of musical history from the earliest times to 1924, hrsg. von Leander de Bekker, London 1924.
Grove 5
Henry Roth, "Women and the Violin", in: The Strad 83 (1972), Nr. 3, S. 551–563.
A biographical dictionary of actors, actresses, musicians, dancers, managers & other stage personnel in London, 1660–1800, hrsg. von Philip H. Highfill [u. a.], 17 Bde., Bd. 12, Illinois 1982.
Algemene Muziek-encyclopedie, hrsg. von Jozef Robjns [u. a.], 10 Bde., Bd. 8, Haarlem [u. a.] 1983.
Brian Boydell, A Dublin musical calendaar 1700-1760, Dublin 1988.
Peter Holman, "Ann Ford Revisited", in: Eighteenth century music, 1/2 (2004), S. 157–181.
Bildnachweis
Konzertanzeige, Daily Advertiser [London], 24. Febr. 1744
VT
© 2010 Freia Hoffmann