Dellmayer, Dellemayer, Dellinger, Louise, Louisa verh. Dellmayer-Kasson
* 1859 in Wien, † 6. Febr. 1913 in Utica/NY, Violoncellistin. Louise Dellmayer erhielt Unterricht von den Violoncellisten Ignaz Lasner (1815–1883), David Popper (1843–1913) und Römer. Wiederholt wird berichtet, dass sie am Wiener Konservatorium studiert habe, in den entsprechenden Studierendenlisten lässt sie sich jedoch nicht nachweisen. Im Apr. 1870 wurde in Wien ein Benefizkonzert "zu Gunsten der begabten Cellistin Frl. Dellmayer" (Wiener Zeitung 29. März 1870) veranstaltet, das aufgrund der großen Nachfrage vom Salon Bösendorfer in den Festsaal des akademischen Gymnasiums verlegt wurde. Louise Dellmayer war hierin selbst mit Werken von Kummer und Lasner zu hören. Im Nov. des Folgejahres trat sie in einem Konzert ihres Lehrers Lasner im Wiener Salon Bösendorfer auf.
In den Jahren 1873 und 1874 war Louise Dellmayer als Solocellistin in dem von Josephine Amann-Weinlich geleiteten "Ersten Europäischen Damenorchester" engagiert. Mit dem Ensemble konzertierte sie unter anderem in Leipzig, Wien und London. In London bezeichnete ein Rezensent ihr Spiel als "remarkable both for tone and finish" (The Manchester Guardian 15. Juni 1874). Im Frühjahr 1876 wirkte sie in Karolinenthal in einem vom dortigen Damenkommitee zur Sammlung von Beiträgen für das Offiziers-Töchter-Erziehungsinstitut initiierten Konzert mit. In den folgenden Jahren sind in Europa keine weiteren Auftritte der Musikerin belegt. 1897 wanderte sie nach Amerika aus und ließ sich im folgenden Jahr in Utica/NY nieder. Dass sie, wie mehrfach erwähnt, kurz nach ihrer Ankunft Mitglied des Boston Symphony war, lässt sich nicht nachweisen und ist zudem unwahrscheinlich. In Utica lernte sie John Greene Kasson kennen, einen Innenarchitekten, den sie am 26. Dez. 1900 in Utica heiratete.
Seit 1899 sind zahlreiche Auftritte Louise Dellmayers in Utica und umliegenden Orten nachgewiesen. Um 1900 nahm sie eine Stelle als Violoncellolehrerin am Utica Conservatory of Music an und unterrichtete seit Ende 1903 zusätzlich an der Elliott School of Music ebenda.
Louise Dellmayer veranstaltete Solokonzerte, trat vielfach aber auch in kammermusikalischer Besetzung zusammen mit Kollegen vom Konservatorium auf. In der Tagespresse findet außerdem ihre Mitwirkung in Gottesdiensten der Westminster Church Erwähnung. Auffallend oft trat die Künstlerin in Wohltätigkeitskonzerten auf. Sie war Mitglied des 1903 gegründeten (und noch heute aktiven) "B Sharp Musical Clubs", der seit 1905 in Utica Konzerte veranstaltete, deren Erlöse für wohltätige Zwecke, unter anderem für die finanzielle Unterstützung von MusikerInnen, bestimmt waren. Letzte Belege für Louise Dellmayer-Kassons Konzerttätigkeit stammen aus dem Jahr 1907.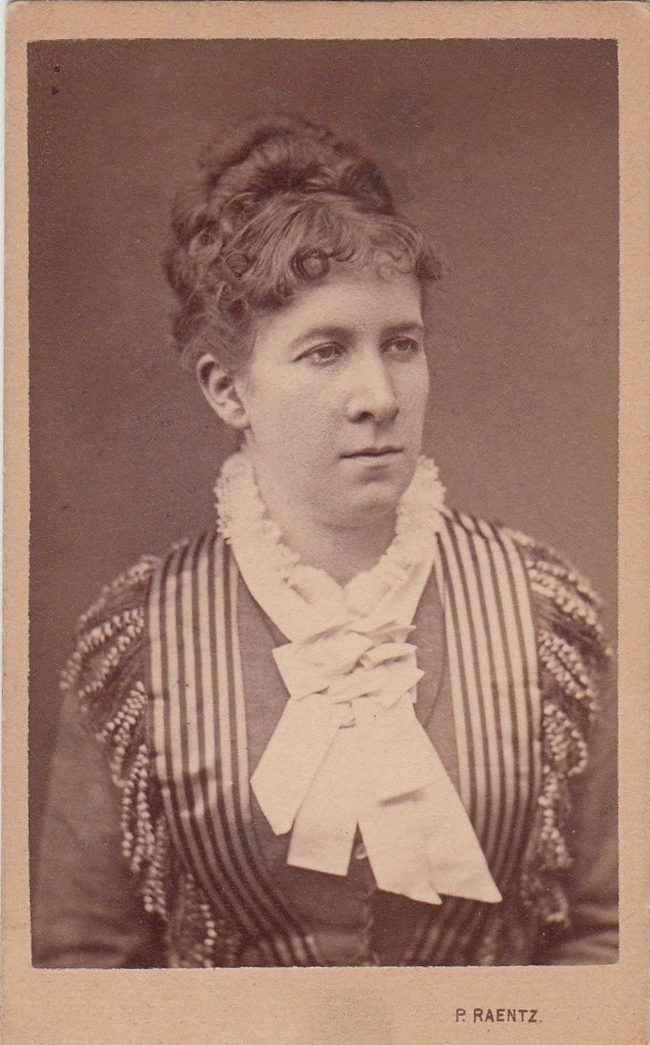 Undat. Photographie von Paul Raentz, Wien.
Ihr Repertoire umfasste Werke wie die Musette op. 24 für Violoncello und Klavier von Jacques Offenbach, Georg Eduard Goltermanns Konzert Nr. 3 in b-Moll op. 51, die "Cavatina" für Cello und Klavier aus den 6 Morceaux op. 85 von Joachim Raff, Jules Massenets "Élégie" aus op. 10 sowie Kompositionen von Chopin, Grieg und Vieuxtemps. Auch Werke ihrer Lehrer Lasner und Popper führte sie auf – von letzterem unter anderem die Mazurka in d-Moll op. 12 und seine Bearbeitung von Robert Schumanns "Abendlied" für Cello und Klavier.
Die Konzerttätigkeit Louise Dellmayer-Kassons ist in der Tagespresse ausführlich dokumentiert, detaillierte Konzertbesprechungen sind jedoch nicht vorhanden. Die wenigen vorliegenden Bemerkungen über die Fähigkeiten der Musikerin sind ausnahmslos positiv: Im "Syracuse Journal" wird sie in einer Konzertankündigung im Frühjahr 1902 als "cellist with remarkable execution and artistic skill" (Syracuse Journal 25. März 1902) bezeichnet. Euphorischer zeigt sich ein Rezensent der "Utica Daily Press" im Jan. 1907, wenn er nach einem Solokonzert Louise Dellmayer-Kassons in der First Prebyterian Church in Utica schreibt: "There is no more talented [artist in this] section of the state than Mrs. Kassoon and she is heard with pleasure wherever she plays in public" (Utica Daily Press 25. Jan. 1907). Der Verfasser eines in demselben Organ erschienenen Nachrufs attestiert ihr sogar "perfection which she attained in her art" (Utica Daily Press 7. Febr. 1913).
John Green Kasson ließ 1915 für seine Frau einen Grabstein auf dem Forest Hill Cemetery in Utica errichten. Erstellt wurde er von dem österreichischen Bildhauer Karl Bitter.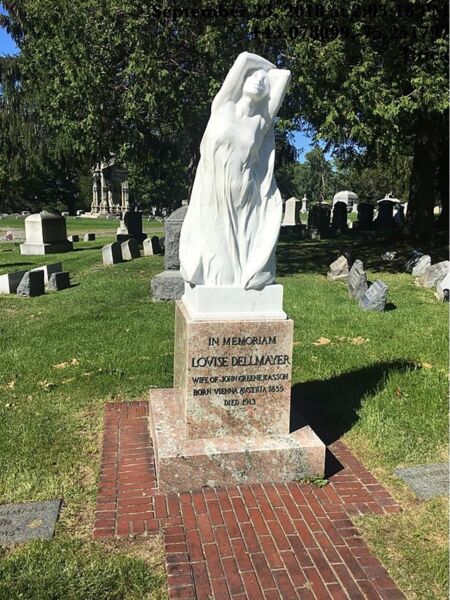 Grabstein von Louise Dellmayer,
Forest Hill Cemetery (Utica),
1915, Karl Bitter, Inschrift:
Louise Dellmayer
Wife of John Greene Kasson
Born Vienna, Austria 1859
Died 1913.
LITERATUR
Athenaeum 1873 I, S. 832; 1874 I, S. 836
Bock 1873, S. 339
Darmstädter Zeitung 2. Nov. 1873
Fremden-Blatt [Wien] 20. Apr. 1870
FritzschMW 1873, S. 606
The Fulton County Republican 3. Mai 1900
The Manchester Guardian 15. Juni 1874
MusW 1873, S. 412; 1874, S. 405
Neues Wiener Tagblatt 23. Nov. 1871
The Orchestra 1873, S. 217
The Post Standard [Syracuse] 1899, 21. Febr.; 1902, 3. Apr.
Prager Abendblatt 10. März 1876
Rome. Semi-weekly Citizen 1899, 30. Juni; 1900, 16. Febr.
The Syracuse Journal 1902, 25. März; 1905, 21. Febr.
Utica Daily Press 1899, 25. März; 1900, 13. März, 23. Juni; 1902, 3. Apr.; 1905, 8. März, 26. Apr., 2. Juni, 30. Sept., 2., 23. Okt., 3. Nov.; 1907, 25. Jan.; 1913, 7. Febr.
Utica Herald-Dispatch 1900, 19., 25., 26 Apr., 2. Juli, 10. Sept., 18. Dez.; 1902, 3. Apr., 13. Dez.; 1903, 16., 20., 21. Febr., 2. Juni, 26. Dez.; 1904, 19. Jan., 15. Febr., 13. Okt.; 1905, 15. Apr., 2., 8. Mai; 1906, 18., 23. Apr., 12. Mai; 1907, 2. Febr., 8. Apr.
Utica Morning Herald 1899, 19. Juni; 1900, 13. Febr., 3. März, 26. Dez.
The Utica Observer, 1899, 21., 22. März, 3. Mai, 29. Nov., 28. Dez; 1907, 8. Apr.
Utica Saturday Globe 8. Febr. 1913
Utica Sunday Journal 1899, 26. März, 30. Apr., 13., 27. Aug., 3. Sept.; 1900, 1. Apr., 13. Mai, 23. Dez.; 1902, 15. Juni; 1903, 7. Sept.
The Utica Sunday Tribune 1899, 25. Juni, 6. Aug.; 1900, 15. Apr., 30. Dez.; 1907, 3. Febr.
Watertown Daily Times 26. Apr. 1900
Wiener Zeitung 29. März 1870
Bildnachweis
Privatbesitz Joseba Berrocal (Bilbao), Abbildung mit freundlicher Genehmigung.
http://sirismm.si.edu/saam/scan1/S76005194_1b.jpg, Zugriff am 21. Dez. 2011.
Annkatrin Babbe
© 2011/2022 Freia Hoffmann