Boucon, Anne-Jeanne, verh. Mondonville
* 1708 in Paris, † 4. Febr. 1780 in Paris, Cembalistin. Anne-Jeanne Boucon war die Nichte der ersten Frau Jean-Baptiste Antoine Forquerays. Als zweites der zehn Kinder des Ehepaares Etienne Boucon und Anne Claude Nelson war sie außerdem die Haupterbin ihres Vaters und nach dessen Tod eine sehr vermögende Frau. Etienne Boucon war ein großer Liebhaber von Kunst und Musik und ließ seiner Tochter eine gediegene musikalische Ausbildung zukommen. Am Cembalo war sie eine Schülerin Jean-Philippe Rameaus (1683–1764) gewesen und hatte in Paris große Bekanntheit erlangt. Laut Ernst Ludwig Gerbers "Historisch-Biographischem Lexikon der Tonkünstler" übte sie außerdem "die Komposition und Malerey" aus. Schilling berichtet: "Sie soll unter allen Virtuosen ihrer Zeit zu Paris am besten vom Blatte gespielt haben". Anne Jeanne Boucon gehörte zum Kreise um den Financier Crozat, in dessen Haus seit 1724 regelmäßig zweimal wöchentlich Konzerte stattfanden und in denen die Cembalistin häufig zu hören war. Sie galt dabei als Rivalin der wohl etwas älteren Cembalistin Mlle. Guyot. Im Elternhaus Anne-Jeanne Boucons befanden sich eine Hausorgel, ein zweimanualiges Cembalo von Blanchet und mehrere Violinen. All diese Instrumente gingen nach dem Tod des Vaters in ihren Besitz über.
Jean Barrière ("La Boucon", in Sonates et Pieces pour le Clavecin, Livre VI, ca. 1745), Jacques Duphly ("La Boucon", in Pieces de clavecin, Ier Livre 1744) und ihr Lehrer Rameau ("La Boucon", in Pieces de clavecin en concert, 1741) widmeten der Musikerin Kompositionen.
Anne-Jeanne Boucon war bereits 39 Jahre alt, als sie sich am 26. Juli 1747 mit dem drei Jahre jüngeren Violinisten Jean-Joseph Cassanéa de Mondonville (1711–1772) verheiratete. Entgegen den zeitgenössischen Pariser Gepflogenheiten wurde in dem am 12. Juli 1747 geschlossenen Heiratskontrakt keine Gütertrennung vereinbart, obgleich beinahe das gesamte Vermögen von Seiten der Frau kam. Ein Jahr später erschienen Mondonvilles virtuose Pièces de clavecin avec voix ou violon, wohl als eine Hommage an seine Frau. Die Ehe Anne-Jeanne Boucons und Jean-Joseph Cassanéa de Mondonville verlief offenbar sehr glücklich. D'Aquin de Châteaulyon nimmt darauf in seiner Lobrede auf die Künstlerin Bezug: "Que dirai-je de Madame de Mondonville, autrefois Mademoiselle Boucon? De qu'elle expression se servir à son sujet? La seule convenable est celle-ci, Madame de Mondonville est ravissante. Apollon & L'Amour, pouvoient-ils mieux faire que d'unir ensemble deux de leurs plus intimes favoris? Heureux les Amateurs qui sont admis dans leur societé, ils gôutent ces beautés sublimes dont les Muses seules avoient le secret" ("Was soll ich über Mme. de Mondonville, ehemals Mlle. Boucon sagen? Welcher Worte soll ich mich hier bedienen? Die einzig passenden sind diese: Mme. de Mondonville ist hinreißend. Hätten Apoll und Amor besser handeln können, als zwei ihrer innigsten Lieblinge zu vereinen? Glücklich die Musikliebhaber, die in ihre Gesellschaft aufgenommen werden, sie genießen die erlesensten Schönheiten, deren Geheimnis allein die Musen kennen", D'Aquin de Châteaulyon, S. 126). Beide waren auch mit dem Musikmäzen Alexandre-Jean-Joseph Le Riche de la Pouplinière bekannt. Der Sohn des Ehepaares, Maximilien-Joseph (1749–1804), war Violinist und Oboist, erreichte aber nicht den Bekanntheitsgrad seiner Eltern.
1746 und 1752 schuf der Maler Quentin de Latour im Auftrage Anne-Jeanne Boucons die Pastelle der beiden Eheleute, die in den zeitgenössischen Salons berühmt wurden. Dasjenige der Ehefrau zeigt ein Notenbuch mit der Aufschrift "Pièces de clavecin de Mme de Mondonville", also "Cembalowerke von Mme de Mondonville", das leider nicht erhalten ist. Wie ihr Vater unterhielt Anne-Jeanne Boucon in dem geerbten Elternhaus in der Rue des Vieux-Augustins einen Salon, in dem sich MusikerInnen, LiteratInnen und MalerInnen trafen.
Anne Jeanne Boucon, verh. Mondonville starb am 4. Febr. 1780 in Paris, acht Jahre nach ihrem Mann. Der König hatte ihr und ihrem Sohn eine Pension von 600 Livres ausgesetzt.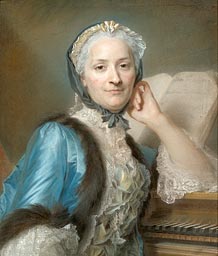 Maurice Quentin de Latour (1704-1788): Anne-Jeanne Cassanéa
de Mondonville, née Boucon, ca. 1752.
LITERATUR
Pierre Louis D'Aquin de Châteaulyon, Lettres sur les hommes célèbres, dans les sciences, la littérature & les beaux-arts, sous le règne de Louis XIV, Amsterdam 1754, Repr. o. O. 1978.
Gerber 1 (Artikel Mondonville, Madame), Schilling (Artikel Jean-Joseph Cassanéa de Mondon­ville), New Grove 1 (Artikel Jean-Joseph Cassanéa de Mondonville), MGG 1999 (Artikel Jean-Joseph Cassanéa de Mondonville), New Grove 2001 (Artikel Jean-Joseph Cassanéa de Mondon­ville und Jean-Baptiste Forqueray)
Michel Brenet [d. i. Marie Bobillier], Les Concerts en France sous l'Ancien Régime, Paris 1900.
Lionel de La Laurencie, "Deux Violistes celebres: Les Forquerays" , in: Bulletin français de la société internationale de musique 1908, S. 1251–1258, 1267–1274.
André Tessier, "Madame de Mondonville ou la dame qui a perdu son peintre", in: La Revue musicale 1. Juli 1926, S. 1–10.
Roberte Machard, Jean-Joseph Cassanéa de Mondonville, Paris 1980.
Julie Anne Sadie, "Musiciennes of the Ancien Régime", in: Women Making Music. The Western Art Tradition, 1150-1950, hrsg. von Jane Bowers u. Judith Thick, London 1986, S. 191–223.
Florence Gétreau, "Tableaux de musique. L'art de représenter la musique sous Louis XV", in: Regards sur la musique au temps de Louis XV, hrsg. von Jean Duron, Warvre 2007, S. 1–29.
Bildnachweis
http://www.artic.edu/aic/collections/artwork/155913, Zugriff am 8. Febr. 2008.
Claudia Schweitzer
© 2008 Freia Hoffmann