Delaval, Deleval, Dellavalle, Della Valle, de la Valle, ( Adelaide-Suzanne-) Camille, geb. Larrivée
* 1763, † nach 1802, Harfenistin, Pianistin und Komponistin. Fétis zufolge war sie die Tochter des Baritons Henri Larrivée (1737–1802) und der Sopranistin Marie Jeanne Larrivée geb. Le Mière (1733–1786) und Schwester der Violinistin (Agathe-Elisabeth-) Henriette Borghese geb. Larrivée. Fétis berichtet über Konzerte, die die Töchter mit den Eltern nach 1786 "dans les provinces" Frankreichs gegeben hätten. Camille Delaval scheint nach der Französischen Revolution mit ihrer damals noch unverheirateten Schwester nach London gekommen zu sein, wo sie vor dem 8. März 1791 mit einem Harfenkonzert auftrat. "The novelty of the evening was a Madame DELEVAL, who performed a concerto on the pedal harp with prodigious ability, though the instrument was but indifferent. – She was, we understand, a pupil of Mr. KHRUMPHOLTZ, late husband of the celebrated harp-player. The audience received her with great applause" (Diary 8. März 1791). Im Salomon-Konzert vom 17. Febr. 1792, in dem die Erstaufführung von Joseph Haydns Sinfonie Nr. 93 D-Dur (Hob. I:93) stattfand, spielte Camille Delaval das Harfenkonzert eines ungenannten Komponisten. Eine Eintragung in Haydns Erstem Londoner Notizbuch bestätigt die Annahme, dass die Musikerin von dem Harfenisten Joh. Baptist Krumpholtz (1747–1790), wohl in Paris, ausgebildet wurde: "Mrs de la Valle, eine Schüllerin von Krumpholz: spilt etwas weniger dan Madam Krumpholz. Spilt auch Clavier". Im Apr. 1792 und im Apr. 1794 gab sie weitere Konzerte, in denen auch ihre Schwester mitwirkte. 1793 erregte sie Aufsehen durch die Komposition einer Kantate Les adieux de l'infortuné Louis XVI à son peuple, 1796 trat sie in einem eigenen Konzert sowohl als Klavier- wie auch als Harfenvirtuosin auf (Milligan S. 60f.).
Am 26. Mai 1800 spielte sie in einem eigenen Konzert eine nicht näher bezeichnete Sonate für die Pedalharfe sowie ihre Harfensonate mit Begleitung eines Streichtrios op. 4. Eine "Miß Camilla Delaval, a Child of 7 years old", wahrscheinlich ihre Tochter, musizierte in diesem Konzert ein "Divertimento on the Grand Pedal Harp", möglicherweise aus Delavals op. 3 (Times 26. Mai 1800).
Einem Londoner Korrespondentenbericht der "Allgemeinen musikalischen Zeitung" zufolge scheint sie noch 1802 dort gewirkt zu haben (AmZ 1802/03, Sp. 198).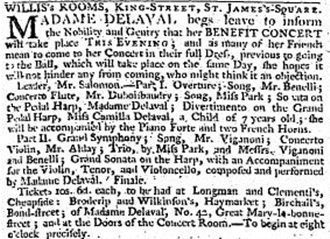 Anzeige aus: The Times [London] 26. Mai 1800.
WERKE FÜR HARFE UND KLAVIER
Three Sonatas for the Harp or Piano Forte, op. 1, London [1790?]
Les adieux de l'infortuné Louis XVI à son peuple, musique arrangée pour le piano forte ou la harpe, [London] 1793
A Prelude & Divertimento for the Harp, & Piano Forte, with an accompaniment for two French Horns, ad libitum, op. 3, London [1801]
A Grand Sonata, for the Harp; with accompaniments for a violin, tenor & violoncello, ad libitum, op. 4, London [1801]
LITERATUR
AmZ 1802/03, Sp. 198
Diary or Woodfall's Register 8. März 1791
The Times 1880, 9. Apr., 26. Mai
Gerber 1, Gerber 2, Sainsbury, Schilling, Mendel, Paul, Fétis (Art. Henri Larrivée), Cohen, New Grove 2001
Joseph Haydn, Gesammelte Briefe und Aufzeichnungen, hrsg. von Dénes Bartha, Kassel [u. a.] 1965.
Arthur Elson, Women's work in music, Portland/ME 1976.
Thomas B. Milligan, The Concerto and London's Musical Culture in the Late Eighteenth Century (= Studies in Musicology 69), Ann Arbor/Michigan 1983.
Bildnachweis
The Times [London] 26. Mai 1800.
FH
© 2010 Freia Hoffmann