Arnstein, Arensteiner, Arnsteiner, (Franziska) (Vögel, Vögele, Vögelchen) Fanny Freifrau von
* 11. März 1757 in Berlin, † 8. Juni 1818 in Wien, Pianistin. Sie war das achte Kind von Daniel Itzig (1723−1799), Hofbankier Friedrichs II. und seiner Frau Mariane (Miriam) geb. Wulff (1725−1788). Fanny Arnsteins Großnichte Fanny Hensel geb. Mendelssohn wurde höchstwahrscheinlich nach ihr benannt. In ihrem Elternhaus genoss sie eine umfassende Bildung, zu der auch qualifizierter Klavierunterricht gehörte. "Musik wurde da im reinsten, edelsten Sinn getrieben, Sebastian und Emanuel Bach mit einem Verständniß vorgetragen, wie sonst nirgends. Der beste Clavierlehrer wurde, wie auch andere treffliche Lehrer mit einer jährlichen Pension belohnt, damit die schönen, zahlreichen Kinder der Familie ganz nach Trieb und Gefallen jeden Unterricht in allen guten und wünschenswerthen Gegenständen nehmen konnten" (Schletterer, S. 100). Um welchen Klavierlehrer es sich handelte, ist noch nicht festgestellt worden. Bekannt ist, dass die beiden ältesten Itzig-Töchter Hanna und Bella von Kirnberger und eine jüngere Schwester, Sara verh. Levy von Wilhelm Friedemann Bach unterrichtet wurden.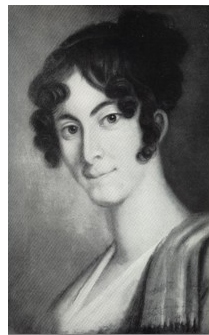 Im Juni 1776 heiratete Fanny Itzig den jüdischen Wiener Bankier Nathan Adam Arnstein (1748−1838) und ließ sich mit ihm in Wien nieder. Es gelang ihr, ihren Salon zu einem gesellschaftlichen Mittelpunkt Wiens zu machen, der insbesondere zur Zeit des Wiener Kongresses Bedeutung erlangte. Zu den berühmten Gästen zählten Wellington, Wilhelm von Humboldt, Hardenberg, Metternich, Madame de Staël, Dorothea Schlegel, Fanny Hensel, Meyerbeer und möglicherweise auch W. A. Mozart, der den Namen "d'Arensteiner" auf einer Liste seiner Konzert-Subskribenten aufführt (Brief an den Vater vom 20. März 1784).
Fanny Arnstein ist in erster Linie bekannt für ihr politisches und soziales Engagement: Sie stiftete Kriegslazarette, Kranken- und Armenhäuser und setzte sich bei Joseph II. für die Rechte der österreichischen Juden ein. Doch förderte sie auch die Kunst, war Mitbegründerin der Gesellschaft der Musikfreunde in Wien (1812) und veranstaltete Benefizkonzerte. Sie hatte, wie die gesamte Familie Itzig, eine Vorliebe für die Werke der Musikerfamilie Bach. In ihrem Salon trat sie anfangs auch selbst als Pianistin auf. Im "Jahrbuch der Tonkunst von Wien und Prag" von 1796 heißt es über sie: "Frau von Arnstein, (Fanny) die kernhaftesten und schwersten Kompositionen sind ihr Lieblingsspiel. Sie liest sehr gut, hat eine leichte Hand und meisterhaften Anschlag. In Geschwindigkeiten exzellirt sie. Es ist zu bedauern, daß sie seit einigen Jahren den Geschmack daran verlohren zu haben scheint, denn sie berührt das Fortepiano sehr wenig mehr. Leute von ihrem Vermögen sollten die dürftige Kunst nicht verlassen, welcher es ohnehin je länger je mehr an thätiger Aufmunterung fehlt". Sie starb an einer Lungenentzündung. Ihre Tochter Henriette Pereira wurde in Wien ebenfalls als Pianistin und Gastgeberin eines Salons bekannt.
LITERATUR
CramerMus, S. 235
Schönfeld, ONE, Wurzbach, OeML
Mozart, Briefe und Aufzeichnungen. Gesamtausgabe, hrsg. von der Internationalen Stiftung Mozarteum Salzburg, 7 Bde., Kassel [u. a.] 1962−1975.
Hans M. Schletterer, Johann Friedrich Reichardt. Sein Leben und seine musikalische Thätigkeit, Augsburg 1865, Repr. Walluf bei Wiesbaden 1972.
Lina Morgenstern, Die Frauen des 19. Jahrhunderts, Berlin 1888.
Nahida Remy, Das jüdische Weib, Leipzig 3. Aufl. 1892, Repr. Frankfurt 1999.
Hilde Spiel, Fanny von Arnstein oder Die Emanzipation. Ein Frauenleben an der Zeitenwende 1758-1818, Frankfurt a. M. 1962.
Neue Deutsche Biographie, hrsg. von der Historischen Kommission bei der Bayerischen Akademie der Wissenschaften und der Bayerischen Staatsbibliothek, 27 Bde., Bd.1, Berlin 1953.
Martin Falck, Wilhelm Friedemann Bach, Hildesheim [ u. a. ] 1977.
Meyer Kayserling, Die jüdischen Frauen in der Geschichte, Literatur und Kunst, Leipzig 1879, Repr. Hildesheim [u. a.] 1991.
Verena von der Heyden-Rynsch, Europäische Salons, München 1992.
Peter Wollny, "Sara Levy and the Making of Musical Taste in Berlin", in: MQ 4 (1993), S. 651−688.
Elisabeth Vavra, Aufmüpfig und angepaßt. Frauenleben in Österreich. Katalog der Niederösterreichischen Landesausstellung 1998 im Schloß Kirchstetten, Wien [u. a.] 1998, http://www.uni-klu.ac.at/kultdoku/kataloge/32/html/2575.htm, Zugriff am 25. Juli 2007.
Peter Wollny, "'Ein förmlicher Sebastian und Philipp Emanuel Bach-Kultus'. Sara Levy, geb. Itzig und ihr literarisch-musikalischer Salon", in: Musik und Ästhetik im Berlin Moses Mendelssohns, hrsg. von Anselm Gerhard (= Wolfenbütteler Studien zur Aufklärung 25), Tübingen 1999, S. 217−249.
Peter Schleuning, Fanny Hensel geb. Mendelssohn. Musikerin der Romantik (= Europäische Komponistinnen 6), Köln [u. a.] 2007.
Bildnachweis
Hilde Spiel, S. 80 (gegenüberliegende Seite)
Hanna Bergmann/CB
© 2007/2022 Freia Hoffmann