Hoeven, Kato, Cato, Cateau van der, van den
* 20. Sept. 1877 in Amsterdam, † 7. Dez. 1959 in Den Haag. Ihre Eltern waren Johanna Catharina Marx und Gerrit van der Hoeven. Von ihrer Schwester Dina van der Hoeven (1871–1940) ist bekannt, dass sie sich nach einer Ausbildung am Kölner Konservatorium und bei Willem Mengelberg in Amsterdam in Berlin als Pianistin niederließ. Auch bei Teresa Carreño soll sie kurzzeitig Unterricht gehabt haben.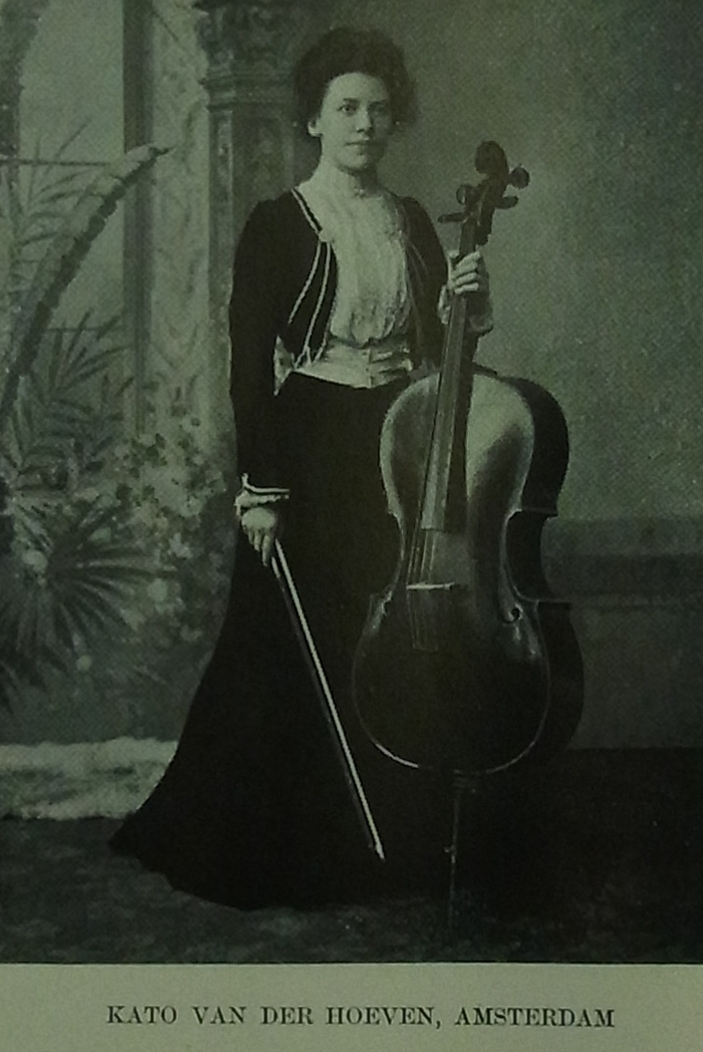 Porträt mit Violoncello, unbekannter Photograph, undat., vor 1903.
Kato van der Hoeven lernte als Kind zunächst Klavier und Geige, bevor sie zum Violoncello wechselte. Sie studierte bei Willem Kes (1856–1934) an der Orchesterschule in Amsterdam, bei Thomas C. de Maaré (1863–1948), Isaak Mossel (1870–1923), Mitgliedern des Amsterdamer Concertgebouw Orchesters, und in Berlin bei Anton Hekking (1856–1935). Hekking war zeitweilig Violoncellist der Bilse'schen Kapelle und des Berliner Philharmonischen Orchesters. Vom 1. Sept. 1896 bis 1. Sept. 1899 ist er in den Akten des Stern'schen Konservatoriums als Lehrer verzeichnet. Kato van der Hoeven ist in den Schülerlisten nicht aufgeführt, sodass anzunehmen ist, dass es sich bei ihr um ein privates Ausbildungsverhältnis handelte.
Am 16. Nov. 1897 wurde Kato van der Hoeven Mitglied des Amsterdamer Concertgebouw Orchesters und ist damit nach jetzigem Forschungsstand nach Valborg Lagervall die zweite Violoncellistin, die in Europa in ein Sinfonie-Orchester aufgenommen wurde. Ein solistischer Auftritt mit diesem Orchester ist bereits für den 12. Dez. 1895 belegt. Unter der Leitung von Willem Mengelberg spielte sie Max Bruchs Kol Nidrei op. 45, die Cantilena aus dem Violoncellokonzert Nr. 1 a-Moll op. 14 von Georg Goltermann sowie Sarabande & Gavotte op. 10 von David Popper. Neben ihren Orchesterdiensten betätigte sich Kato van der Hoeven vor allem kammermusikalisch. 1906 gründete sie mit der Geigerin Nella (Petronella) Gunning und der Pianistin Nora Boas das "eerste Hollandsche dames-trio" (Caecilia 1906, S. 325), in dem Fanny Gelbart spätestens 1908 die Stelle von Nora Boas einnahm. In dieser Besetzung trat das Trio zwischen 1908 und 1913 in vielen niederländischen Städten und im Nov. 1908 mit der Pianistin Johanna Heymann auch in London auf. Das Repertoire bestand in Klaviertrios von Haydn (Es-Dur Hob XV:29), Mozart (E-Dur KV 542), Beethoven (Es-Dur op. 1, Es-Dur op. 70), Schubert (B-Dur D 898), Robert Schumann (g-Moll op. 110), Felix Mendelssohn (d-Moll op. 49), Saint-Saëns (F-Dur op. 18), Anton Rubinstein (B-Dur op. 52), Brahms (C-Dur op. 87) und Dvořák (e-Moll op. 90, "Dumky"). Die Programme wurden durch Solo-Literatur ergänzt, wobei die Violoncellistin Werke von Joh. Seb. Bach, Benedetto Marcello, Pergolesi und Bruch beisteuerte.
In der Wintersaison 1901/02 gastierte Kato van der Hoeven in der Berliner Heilig-Kreuz-Kirche mit einem Solo-Programm. "Der Klavier-Lehrer": "Wir können zu unserer Freude feststellen, dass wir in Frl. van der Hoeven eine Cellistin von bedeutendem Können kennen gelernt haben. Die Dame spielte ein Adagio von Bargiel, die Cantilene aus dem A-moll-Konzert von Goltermann und das Air von Bach mit vollem, gesangreichem Ton; es liegt eine urwüchsige Kraft in ihrer Bogenführung, eine Eigenschaft, welche vielen ihrer Kunstgenossinnen fehlt" (Der Klavier-Lehrer 1902, S. 14). Im Frühjahr 1912 trat das "Amsterdamer Trio" in Berlin mit Klaviertrios von Brahms, Saint-Saëns und Dvořák auf. Abgesehen von der Empfehlung an die Pianistin, "im Interesse des Zusammenspiels etwas zurückhaltender zu sein" (Die Musik 1911/12 III, S. 183), fand der Kritiker, die "drei Damen [könnten] es getrost mit den meisten ihrer männlichen Kollegen aufnehmen" (ebd.).
Als Elisabeth Kuyper am 30. Sept. 1913 in Amsterdam mit einem "semiprofessionellen Frauenorchester" (Winterfeldt, S. 228) ihre Festkantate für Frauenchor, Soli, Deklamation und Orchester aufführte, waren Kato van der Hoeven und Nella Gunning unter den Mitwirkenden.
Kato van der Hoevens Mitgliedschaft im Amsterdamer Concertgebouw Orchester endete am 1. Sept. 1917. Danach verliert sich die Spur der Violoncellistin. Im Sterberegister von Den Haag ist vermerkt "zonder beroep" (ohne Beruf).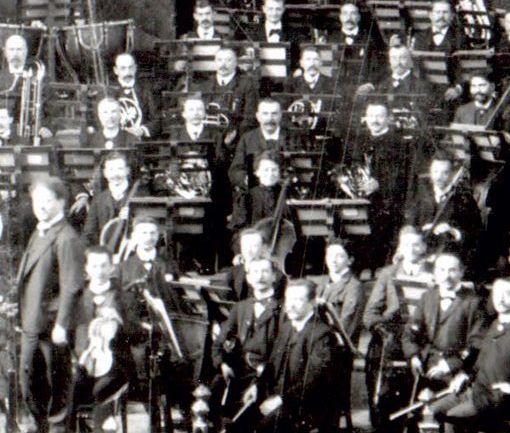 Ausschnitt aus einem Bild des gesamten Concertgebouw Orchesters,
Kato van der Hoeven in der Cello-Gruppe, Bildmitte, 1907.
Für Informationen zu den Lebensdaten von Kato und Dina van der Hoeven bedanke ich mich herzlich bei Cees Schumacher, Amsterdam.
LITERATUR
Schreiben von Mieke Bleeker, Royal Concertgebouw Orchestra, vom 25. u. 29. Jan. sowie 4. Febr. 2013 an die Verf.
Algemeen Handelsblad [Amsterdam] 1895, 15, Jan., 13., 25. Dez.; 1899, 4. Jan.; 1901, 21. Dez.; 1908, 19. Mai, 12. Nov.; 1909, 24. Apr., 30. Okt., 9. Nov.; 1910, 5., 11., 31. Jan., 1. März; 1911, 18. Jan., 2. Febr.; 1912, 6. Apr., 8. Nov., 4., 7., 9. Dez.; 1913, 15., 17. Juli, 27. Sept.
CaeciliaNL 1896, S. 4, 17, 36; 1906, S. 325; 1909, S. 516; 1910, S. 125; 1912, S. 417; 1913, S. 20
The Cremona 1908, S. 150f.
De Gooi- en Eemlander 1911, 25. Nov., 20., 23. Dez.
Der Klavier-Lehrer 1902, S. 14
De Kunst 1910, S. 6; 1913, S. 661

Leeuwarder Courant 7. Okt. 1895
Middelburgsche Courant 1897, 11., 12., 16. Okt.
Die Musik 1911/12 III, S. 183
Het Nieuws van den Dag. Kleine Courant [Amsterdam] 1895, 15. Jan., 13. Dez.; 1899, 7. Jan.; 1901, 27. Jan., 18. Nov., 27. Dez.; 1908, 15. Jan., 20. Mai, 18. Nov.; 1909, 2., 4., 6., 9. Nov.; 1910, 5., 8. Jan., 22., 24. Febr., 3. März, 5. Dez.; 1911, 26., 31. Jan., 2. Febr., 14., 27. Nov.; 1912, 8. Nov., 4., 7., 11. Dez.; 1913, 29. Sept., 22. Dez.
Nieuwsblad van het Noorden [Groningen] 24. Jan. 1912
Rotterdamsch nieuwsblad 1907, 10. Dez.; 1912, 26. Nov.
De Tijd. Godsdienstig-staatkundig dagblad ['s-Hertogenbosch] 1901, 22. Dez.; 1910, 11. Jan.; 1913, 16. Juli
Tilburgsche Courant 17. Dez. 1905
Toonkunst Nieuws 1910, S. 80
J. H. Letzer, Muzikaal Nederland 1850–1910, Utrecht 2. Aufl. 1913 (Art. Hoeven, Kato van der, u. Hoeven, Dina van der).
César Saerchinger (Hrsg.), International Who's Who in Music and Musical Gazetteer, New York 1918 (Art. Hoeven, Cateau van den, u. Hoeven, Dina van den).
Albert Ernest Wier (Hrsg.), The Macmillan Encyclopedia of Music and Musicians, New York 1938.
Oscar Thompson u. Nicolas Slonimsky (Hrsg.), The International Cyclopedia of Music and Musicians, New York 8. Aufl. 1958.
Violoncellisten der Gegenwart in Wort und Bild, Heilbronn 1903.
Wilhelm Joseph von Wasielewski, Das Violoncell und seine Geschichte, Leipzig 21911.
Edmund Sebastian Joseph van der Straeten, History of the Violoncello, the Viol da Gamba, their Precursors and Collateral Instruments, 2 Bde., Bd. 2, London 1915.
Elizabeth Cowling, The Cello, New York 1983.
Susanne Winterfeldt, "Elisabeth Kuyper (1877–1968). Eine holländische Dirigentin und Komponistin in Berlin", in: Komponistinnen in Berlin, hrsg. von Bettina Brand [u. a.], Berlin 1987, S. 219–242.
Helen Metzelaar, From Private to Public Spheres. Exploring Women's Role in Dutch Musical Life from c. 1700 to c. 1800 and Three Case Studies, Utrecht 1999.
Katharina Deserno, Cellistinnen. Transformationen von Weiblichkeit in der Instrumentalkunst, Köln [u. a.] 2018.
Bildnachweis
Violoncellisten der Gegenwart in Wort und Bild, S. 94
Concertgebouw Orchester 1907, frdl. Zusendung von Mieke Bleeker, Verwaltung des Royal Concertgebouw Orchestra
Freia Hoffmann
© 2013 Freia Hoffmann