Dubsky von Wittenau, Baronesse/Freiin Katharina, Catharina Katharine (Sidonia), verh. van Aken, verh. Colloredo
† 1862 in Wien, Physharmonika-Spielerin und Pianistin. Ihre Eltern waren Johann Georg Freiherr Dubsky von Wittenau (1777–1831) und dessen Ehefrau Katharina geb. Friesch (1778–1830). Das Paar hatte noch mindestens vier weitere Kinder.
Katharina Dubsky von Wittenau war eine der ersten MusikerInnen, die mit der ca. 1818 von Anton Haeckl in Wien entwickelten Physharmonika – einer Vorläuferin des Harmoniums – öffentlich auftraten. Ihre Lehrer waren der Physharmonika-Spieler Hieronymus Payr (1787–1846) und Carl Stein (1797–1863).
Ein erster Auftritt Dubsky von Wittenaus ist aus dem Mai 1822 überliefert. Sie ließ sich in einem der Wiener Augarten-Konzerte hören, in welchem u. a. auch Maria Theresia Paradis spielte. Anfang der 1820er Jahre sind wenige weitere Konzerte in Wien belegt. Vater Johann Georg Dubsky betrieb ein Wachsfigurenkabinett im Prater, er ging jedoch mit Wachsfiguren auch auf Reisen. Katharina Dubsky begleitete ihn offenbar und konzertierte an den Reisezielen, etwa in Berlin, wo ihr Vater für "reiche Augenweide in dem auf dem Alexanderplatze aufgestellten Wachsfigurenkabinett" (Morgenblatt für gebildete Stände 1823, S. 140) sorgte, während "die Gattin [sic] des Herrn von Dubsky […] sich in Konzerten auf der in Wien neuerfundenen Phys- oder Luftharmonika hören" (ebd.) ließ. Zwei Jahre später berichtete der Hamburger Korrespondent der "Wiener Zeitschrift für Kunst, Literatur, Theater und Mode" über "die niedliche Tochter des Eigenthümers [der Wachsfiguren], das Fräulein Katharine v. Dubsky, die durch ihr treffliches Spiel auf der Physharmonika den Musik liebenden Hamburgern bereits in einigen Concerten Vergnügen machte" ("Wiener Zeitschrift für Kunst, Literatur, Theater und Mode 1825, S. 259). Die Prager Rezensenten, die sie 1823 und 1824 hören, waren wenig begeistert von ihrem Spiel. So fand sie bei ihrem ersten dortigen Konzert "wenig Beyfall, da sie die Behandlung dieses Instruments noch nicht in ihrer Gewalt hat" (AmZ 1823, Sp. 827f.).
Nach 1825 sind derzeit keine Auftritte nachweisbar. 1829 heiratete Katharina Dubsky von Wittenau den niederländischen Schausteller Hermann van Aken. Dieser betrieb eine Wandermenagerie und führte darin überwiegend tropische Tiere vor, die in vielen Städten zuvor noch nie gesehen worden waren. Nach seinem Tod 1834 betrieb seine Frau die Menagerie weiter. Sie heiratete später den Wiener Hofrat Johann Colloredo-Saalfeld (Mansfeldt?). Katharina Dubsky von Wittenau ist auf dem Wiener Friedhof St. Marx begraben.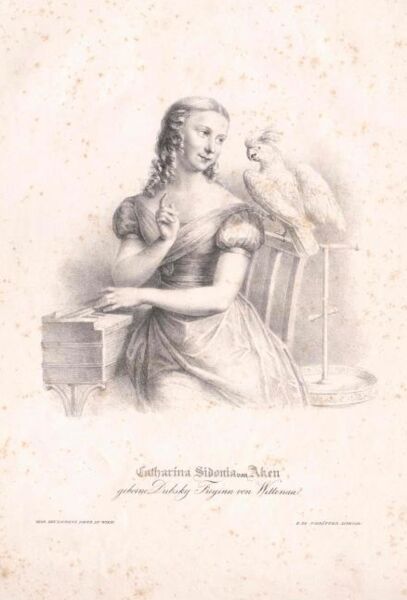 LITERATUR
AmZ 1822, Sp. 464; 1823, Sp. 827f.
Morgenblatt für gebildete Stände 1823, S. 140
Wiener AmZ 1822, Sp. 296; 1823, Sp. 48, 126
Wiener Theaterzeitung (Bäuerle) 1822, 9. Mai; 1825, 26. März
Wiener Zeitschrift für Kunst, Literatur, Theater und Mode 1823, S. 48; 1825, S. 259
The Harmonicon. A journal of music 1824, S. 72
Zeitung für die elegante Welt 1824, Sp. 192.
Alfred Anthony von Siegenfeld, Genealogisches Taschenbuch der adeligen Häuser Österreichs, Wien 1905.
Annelore Rieke-Müller, Lothar Dittrich: Unterwegs mit wilden Tieren. Wandermenagerien zwischen Belehrung und Kommerz 1750–1850 (= Acta biohistorica 5), Marburg 1999.
MGG 2000 (Art. Harmonikainstrumente)
Hans Veigl, Der Friedhof zu St. Marx. Eine letzte biedermeierliche Begräbnisstätte in Wien, Wien u. a. 2006.
Verein für Computergenealogie, https://gedbas.genealogy.net/person/show/995554534, Zugriff am 20. Sept. 2022.
Bildnachweis
Europeana, https://proxy.europeana.eu/92062/BibliographicResource_1000126137461?view=http%3A%2F
%2Fwww.bildarchivaustria.at%2FPreview%2F7906781.jpg&disposition=
inline&api_url=https%3A%2F%2Fapi.europeana.eu%2Fapi, Zugriff am 20. Sept. 2022.
Volker Timmermann
© 2010/2022 Freia Hoffmann