Reichmann, Henriette, Henrietta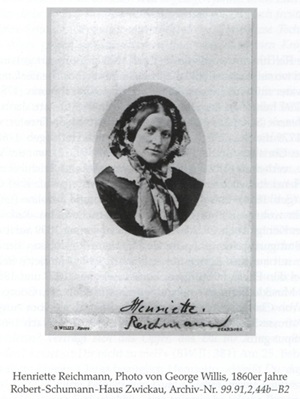 * 8. Apr. 1819 in Stuttgart, † 16. Dez. 1868 in Hull (Großbritannien), Pianistin, Klavier- und Gesangslehrerin. Die Tochter des Stuttgarter Theatermagazin-Verwalters Christian Gottlieb Reichmann (1791–1857) und seiner Frau Franziska Louise (1781–1863) wurde vom "Korrepetitor Schmidt" auf dem Klavier ausgebildet und trat 1837 bereits im Stuttgarter Hoftheater auf (AmZ 1837, Sp. 778). Im Jan. 1839 machte Carl Gustav Schilling sie mit Clara Wieck bekannt, die sich auf einer Konzertreise über Stuttgart und Karlsruhe nach Paris befand. Henriette Reichmann bat Clara Wieck um Unterstützung bei ihrer weiteren Ausbildung, eine Bitte, die die schon damals berühmte Pianistin gerne erfüllte, in der Überzeugung, Henriette Reichmann habe "Talent und Liebe zur Sache" (Brief an Robert Schumann vom 30. Jan. 1839). Da Friedrich Wieck eine Unterstützung der Paris-Reise abgelehnt hatte, war Henriette Reichmann für Clara Wieck eine willkommene Begleiterin und erhielt von ihr während des Paris-Aufenthaltes (bis 14. Aug. 1839) Klavierunterricht.
Henriette Reichmann kehrte nach Stuttgart zurück und trat am 12. Okt. 1839 in einem eigenen Konzert im Königl. Schauspielhaus auf. Sie spielte die Sonate (Pathétique) c-Moll op. 13 von Beethoven, Lob der Tränen (Schubert-Liszt), Etüden von Chopin und Adolph Henselt sowie die Fantaisie sur des thèmes de l'opéra Moïse de G. Rossini op. 33 von Thalberg ."Nach dem, was sie leistete, haben wir einen Grund mehr, unsere hohe Bewunderung gegen ihre ausgezeichnete Lehrerin und so wohlwollende Freundin auszusprechen, nämlich den, dass mit anerkannt vollendeter Meisterschaft auf dem Claviere dieselbe auch ein seltenes Talent und eine seltene Gabe zum Unterricht verbindet" (National-Verein 1839, S. 254). Bei einem zweiten Auftritt am 21. März 1843 spielte sie im Abonnementkonzert im Königl. Redoutensaal in Stuttgart das Konzert in g-Moll von Mendelssohn.
Während sich Clara Wieck teilweise kritisch über Reichmanns pianistische Leistungen äußerte (Briefe an Robert Schumann vom 11. Okt. 1839 und 22. Aug. 1840), dauerte die Freundschaft an. Aus Clara Schumanns Briefen an Emilie List geht hervor, dass Henriette Reichmann 1841/42, weiterhin in Stuttgart lebend, längere Zeit krank war ("schon seit 3–4 Monaten spielt sie gar nicht", Brief vom 24. Jan. 1842). Eine damals geplante Ehe kam offenbar nicht zustande. Im Juli/Aug. 1853 besuchte Henriette Reichmann, die spätestens seit 1849 als Musiklehrerin in Hull/Großbritannien tätig war, das Ehepaar Schumann in Düsseldorf. Robert Schumann widmete ihr im selben Jahr seine Ball-Szenen – Neun charakteristische Tonstücke für Klavier zu vier Händen op. 109. Im Aug. 1854 begleitete sie Clara Schumann zu einem Kuraufenthalt in Ostende (Brief Clara Schumanns an Emilie List vom 21. Aug. 1854). Aus den Jahren 1854–56 sind zehn Briefe von Clara Schumann an Henriette Reichmann überliefert.
In Hull betrieb Henriette Reichmann zusammen mit der Sängerin Anna Eyserbeck eine Musikschule. In der zeitgenössischen Presse sind mehrere Haus- und Schülerkonzerte dokumentiert.
LITERATUR
AmZ 1837, Sp. 778
NZfM 1839 II, S. 164
National-Verein 1839, S. 254
The Hull Packet and East Riding Times 1849, 9. Nov.; 1858, 4. Juni; 1863, 13. März; 1865, 20. Jan., 18. Aug.; 1869, 24. Dez.
Clara und Robert Schumann, Briefwechsel. Kritische Gesamtausgabe, hrsg. von Eva Weissweiler, 3 Bde., Bd. II 1839, Basel u. Frankfurt a. M. 1987.
Robert Schumann, Tagebücher Bd. 2 1836–1854 und Bd. 3, Teil 2 1847–1856, hrsg. von Gerd Nauhaus, Lizenzausg. Basel u. Frankfurt a. M. [1988].
Clara Schumann: "Das Band der ewigen Liebe". Briefwechsel mit Emilie und Elise List, hrsg. von Eugen Wendler, Stuttgart u. Weimar 1996.
[Clara Schumann,] "… daß Gott mir ein Talent geschenkt". Clara Schumanns Briefe an Hermann Härtel und Richard und Helene Schöne, hrsg. von Monica Steegmann, Zürich u. Mainz 1997.
Norman Staveley, Two Centuries of Music in Hull, Beverley 1999.
Wolfgang Seibold, Familie, Freunde, Zeitgenossen. Die Widmungsträger der Schumannschen Werke (= Schumann-Studien Sonderbd. 5), Sinzig 2008.
Bildnachweis
Wolfgang Seibold, S. 211
FH
© 2009 Freia Hoffmann