Verhulst, Anna Charlotte, verh. Elischer, Elischer-Verhulst
* 25. Aug. 1858 in Den Haag, † 28. Juni 1938 in Toorak bei Melbourne, Pianistin und Klavierlehrerin. Ihre Eltern waren der Mendelssohn-Schüler, Komponist und Dirigent Johannes Verhulst (1816−1891) und Johanna Elizabeth Cornelia Verhulst geb. Rochussen (1827−1893). Anna Charlotte Verhulsts Schwester Louise Henriette war eine erfolgreiche Sopranistin, über zwei weitere Geschwister liegen keine Informationen vor. Die Familie stand in engem Kontakt zu Clara und Robert Schumann, Ferdinand Hiller und Felix Mendelssohn.
Anna Verhulst "kreeg in haar woonplaats op primitieve wijze onderricht in het pianospel van een plaatselijke muziekleraar" ("bekam zu Hause von einem lokalen Musiklehrer auf einfache Weise Unterricht im Klavierspiel", Hendriks 1994, S. 3). Mit 15 Jahren erhielt sie ein von König Wilhelm III. finanziertes Stipendium, welches ihr eine dreijährige Ausbildung im Ausland ermöglichte. In den folgenden Jahren studierte sie in Köln unter Ferdinand Hiller (1811−1885) und in Paris. Sie spielte Konzerte u. a. in Paris (1876, 1877), Amsterdam (1878−1881, 1889), Tilburg (1879), Jena (1879), Dresden (1879), Leipzig (1879−1883, 1887), Elberfeld (1880), Aachen (1880), Zeitz (1881), Torgau (1881), Köln (1882), Rotterdam (1887), London (1894) und Melbourne (1934, 1936).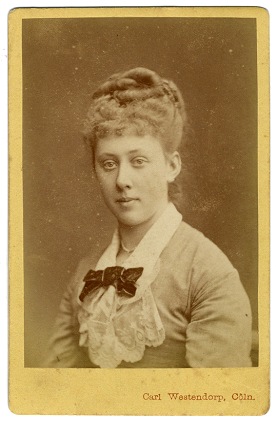 Anna Verhulst um 1876, Photographie von Carl Westendorp in Köln.
Im Jahr 1877 wurde sie von König Wilhelm III. zur Hofpianistin ernannt und spielte mehrere Konzerte in der Salle Érard in Paris. Zusammen mit dem Violonisten Eugène Ysaÿe und dem Violoncellisten Joseph Hollmann brachte sie dort u. a. das Trio op. 42 von Niels Gade und das Trio op. 70 Nr. 2 in Es-Dur von Beethoven zur Aufführung. Die Reaktionen auf ihre ersten Konzerte fielen jedoch zurückhaltend aus. Den Vortrag von Chopins Konzert e-Moll op. 11 beim Konzertverein Eruditio Musica am 13. Dez. 1877 in Rotterdam beschreibt der Rezensent des "Musikalischen Wochenblatts" zwar als "eine sehr abgerundete Leistung" (FritzschMW 1878, S. 38), dennoch habe sich gezeigt, "dass sie jene Stufe künstlerischer Reife noch nicht erreicht hat, bei der die Frage: wie viel wohl noch vom Schüler abzustreifen ist, um in den Vollbesitz der Meisterschaft zu gelangen, gar nicht mehr auftaucht" (ebd.). Am 12. Apr. des folgenden Jahres spielte sie beim 4. philharmonischen Konzert in Amsterdam unter der Leitung ihres Vaters ein Konzert von Saint-Saëns sowie eine Gigue von Ferdinand Hiller und das Spinnerlied von Wagner in der Bearbeitung von Liszt. "Hare techniek heeft thans die hoogte bereikt, die haar in staat stelt de pianolitteratuur in haren ganschen omvang te omvatten en hare voordracht heeft aan uitdrukking on eigendommekjkheid veel gewonnen, zoodat het ein wezenlijk genot is, haar in hare verrichtingen op het klavier gade te staan" ("Ihre Technik hat nun ganz die Höhe erreicht, die es ihr ermöglicht, die Pianoliteratur in ihrer ganzen Breite zu erfassen, und ihr Vortrag hat an Ausdruck und Persönlichkeit viel gewonnen, sodass es ein erheblicher Genuss ist, sie bei der Arbeit am Klavier zu beobachten", Algemeen Handelsblad 11. März 1879). Auch spätere Rezensionen betonen ihre Fortschritte. So schreibt die Zeitschrift "Signale für die musikalische Welt" zu Anna Verhulsts Leistungen im Septett op. 74 in d-Moll von Hummel, welches bei einer Kammermusiksoiree im Gewandhaus 1881 zur Aufführung kam: "Ganz besonderer Dank gebührt hierbei der Interpretin des Clavierpartes, Fräulein Verhulst, welche sich ihrer bekanntlich nicht eben leichten Aufgabe mit Gewandtheit und Geschmack entledigte und an welcher überhaupt mit Erfreulichkeit zu merken war, daß sie gegen früher, wo wir ihr begegneten, an technischer und musikalischer Reife ganz erheblich gewonnen hat" (Signale 1881, S. 435).
Von 1879 bis 1884 befand sich ihr Wohnsitz in Leipzig. Am 1. Okt. 1881 heiratete sie dort den Leipziger Verleger Balthasar Elischer (1818−1895), mit dem sie zwei Kinder bekam. Ihre Tochter Edith Elischer, verh. Burnett (?−nach 1953), eine erfolgreiche Sängerin, übersiedelte nach Australien. Ob es sich bei ihrem Ehemann Balthasar Elischer um den Begründer der gleichnamigen Goethesammlung handelt, ist zur Zeit ungeklärt.
Zu Ehren eines Besuchs von Liszt (1811−1886) im königlichen Palast Den Haags um 1884 gab Anna Elischer-Verhulst ein Konzert, welches diesen dazu bewog, die Pianistin als Schülerin anzunehmen. Die folgenden Jahre bis zu Liszts Tod 1886 verbrachte sie bei ihm in Weimar. 1887 konzertierte sie abermals im Gewandhaus, diesmal in einer Quartettsoiree auf Einladung des Violinisten Adolph Brodsky. 1893 übersiedelte sie nach Cheltenham, wo sie seit 1894 als Klavierlehrerin am Ladies' College arbeitete. In dieser Zeit gab sie Konzerte in London sowie bis in die 1920er Jahre Rundfunkkonzerte für die BBC.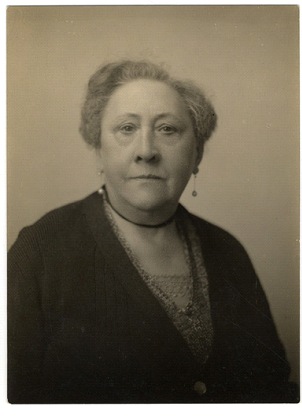 Anna Elischer-Verhulst, Photographie um 1920.
Im Mai 1933 verließ Anna Elischer-Verhulst Europa und besuchte ihre Tochter in Toorak bei Melbourne. Auch hier trat sie als Pianistin bei Live-Übertragungen des Radiosenders 3LO (1933) sowie bei Konzerten in Melbourne (1934, 1936) in Erscheinung. Ein vermutlich letzter Auftritt fand im Aug. 1935 in Toorak statt: Bei einer Feier zur Präsentation eines Portraits der Pianistin, welches von dem australischen Künstler Colin Colahan (1897−1987) angefertigt worden war, trug Anna Elischer-Verhulst mehrere Werke von Chopin vor und begleitete die Violinistinnen Gertrude Healy und A. L. Kenny beim Konzert für zwei Violinen von Joh. Seb. Bach. Sie starb im Juni 1938 im Haus ihrer Tochter.
Ihr Repertoire umfasste Werke von Bach, Beethoven, Lachner, Hiller, Chopin, Schumann, Mendelssohn, Grieg, Niels Gade, Liszt, Moszkowski und Rubinstein, wobei ein Schwerpunkt auf romantischen Kompositionen erkennbar ist.
Der Nachlass von Anna Elischer-Verhulst befindet sich im Nederlands Muziekinstituut.
LITERATUR
The Advertiser 1933, 8. Mai, 24. Juni; 1938, 30. Juni
Algemeen Handelsblad [Amsterdam] 11. März 1879
AmZ 1879, Sp. 94
The Argus 1933, 9. Mai, 9., 24. Juni; 1934, 21. Dez.; 1935, 26. Aug.; 1936, 24. Apr.; 1938, 30. Juni
FritzschMW 1878, S. 38, 571; 1879, S. 144f.; 1881, S. 182; 1886, S. 198; 1887, S. 137
Glasgow Herald 29. Dez. 1894
Le Ménestrel 1877, S. 199
Monthly Musical Record 1. Apr. 1887
Musikalisches Centralblatt 1883, S. 243
MusW 1880, S. 225
NZfM 1880, S. 49, 140, 150, 162, 233, 451; 1881, S. 54, 100, 139
Het Nieuws van den Dag. Kleine Courant [Amsterdam] 1878, 10. Apr.; 1881, 2. Mai
RGM 1877, S. 151, 158
Signale 1878, S. 293, 1080; 1879, S. 75, 81f., 84f., 116, 166, 987; 1880, S. 129, 364, 425; 1881, S. 435; 1882, S. 180, 378, 403; 1887, S. 323
The Sydney Morning Herald 1938, S. 18
Tilburgsche courant 12. Okt. 1879
The Times [London] 1894, 31. Mai; 1926, 1. Nov.; 1938, 11. Nov.
The West Australian 30. Juni 1938
Who's who in Cheltenham, 1910
Michel Stockhem, Eugène Ysaÿe et la musique de chambre, Liège 1990.
H. A. Hendriks, Inventaris van het archief Anna Ch. Elischer-Verhulst. Nederlandse Muziekarchieven no. 134, 1994: http://www.nederlandsmuziekinstituut.nl/images/inventaris/elischer.pdf, Zugriff am 25. Apr. 2012.
Bildnachweis
Archivnr.: F1389, Nederlands Muziek Instituut, Den Haag.
Archivnr.: F7664, Nederlands Muziek Instituut, Den Haag.
Jannis Wichmann
© 2012/2023 Freia Hoffmann