Dubois, du Bois, Marie-Rose, verh. Forqueray
* 17. Jan. 1717 in Paris, Sterbedaten unbekannt, Cembalistin. Marie-Rose Dubois entstammte einer adeligen Familie aus Franche-Comté. Sie war die Tochter des Advocat au Parlement Jerasme Dubois und dessen Frau Marie Claude geb. Le Tellier (?–vor 1741). Am 13. März 1741 heiratete sie den Ordinaire de la Musique du Roi Jean-Baptiste(-Antoine) Forqueray (1699–1782), dessen zweite Gattin sie wurde. Aus der Ehe gingen die Kinder Jean-Baptiste Marie und Rosalie Forqueray hervor.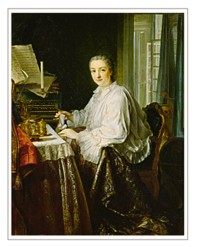 Marie-Rose Dubois war vor und nach der Eheschließung an der Seite ihres Mannes als Musikerin aktiv. So erinnerte sich beispielsweise Lynes, dass bei einem Souper am 24. Okt. 1751 zu Ehren des Dauphin und der Dauphine fünf MusikerInnen spielten: "Forcroy et sa femme, Blavet, Jeliote et Mme Le Mann" (de la Laurencie, S. 1268). Außerdem heißt es hier, dass "la basse de viole et le clavecin [also das Ehepaar Forqueray] jouèrent ensemble plusieurs pièces, avec un goût et une précision dignes d'être admirés" ("Bassgambe und Cembalo miteinander mehrere Stücke spielten, mit bewundernwerter Manier und Genauigkeit", ebd.).
Marie-Rose Dubois verh. Forqueray war eine in ihrer Zeit bekannte und anerkannte Cembalistin. Bei D'Aquin de Châteaulyon heißt es: "On connoît tous les talens de Madame Forqueray: sa réputation est éclatante" ("Alle Fähigkeiten von Mad. Forqueray sind bekannt: ihr Ruf ist glänzend", S. 127). Und über das Ehepaar schwärmt er, es sei "un mariage conclu sur le Parnasse, & dont Apollon s'est mêlé" ("eine im Parnass geschlossene Ehe, mit Apolls Beistand"; ebd.). Noch im Testament ihres Mannes vom 7. Juni 1733 wird ihr Beruf mit "claveciniste" angegeben (Benoit).
Die Cembalobearbeitungen der Sonaten für Viola da gamba und Basso continuo ihres Schwiegervaters Antoine Forqueray, die 1747 unter dem Namen ihres Mannes im Druck erschienen (Antoine Forqueray, Pièces de viole mises en pièces de clavecin, Paris 1747), wurden vermutlich von Marie-Rose Dubois angefertigt. Der spätere Verlauf ihres Lebens ist unbekannt.
A Monsieur et a Madame Forqueray

Elève d'Appollon, Oracles de ses loix
Forqueray dont le goût s'unissant au génie,
Tire, pour nous charmer, du sein de l'harmonie,
Ces concerts ravissans qui naissent sous vos doigts.
A cet enfant de mes premières veilles,
Si vous daignez prêter un favorable apui,
Par vous il gagnera le cœur par les oreilles;
Et jusqu'à ses rivaux, tout parlera pour lui.
Lorsqu'il ne faisoit que de naître,
Vous l'honoriez d'un propice regard;
Heureux présage ! Orné des parures de l'Art,
A vos yeux aujourd'hui plus digne de paroître,
Il vient dans vos bontés puiser un nouvel être.
Déjà vous l'adoptez, et la prévantion
Respectant de vos noms le flateur témoignage,
N'oseroit refuser son aprobation
Aux efforts d'un Auteur dont le premier ouvrage
A sçu mériter le suffrage
De Polymnie et d'Amphion.
Clément
An Monsieur und Madame Forqueray

Schüler Apollons, Orakel seiner Gesetze,
Forqueray, bei dem Geschmack sich mit Genie vereinigt,
Zieht, uns zu bezaubern, aus dem Schoß der Harmonie
Diese entzückenden Konzerte, die unter
Euren Fingern [zum Leben] erwachen.
Dieses Kind [diese Sonaten] meiner ersten wachen Stunden,
Wenn Ihr geneigt seid, es wohlwollend zu unterstützen,
So wird es durch Euch das Herz mittels der Ohren gewinnen;
Und bis hin zu seinen Rivalen wird alles nur für dasselbe sprechen.
Bei seiner Geburt bereits
Bedachtet ihr es mit einem günstigen Blick;
Welch glückliche Voraussage! Geziert mit dem Schmuck der Kunst
Ist es in Euren Augen heute weit würdiger sich zu zeigen,
Da es soeben aus Eurer Güte ein neues Wesen geschöpft hat.
Ihr nehmt es bereits an, und die Unvoreingenommenheit,
Mit der ein schmeichelhaftes Zeugnis in Eurem Namen respektiert wird,
Wagte nicht, den Bemühungen eines Komponisten den Beifall zu verweigern,
Dessen erstes Werk bereits den Beifall
Polyhymnias1 und Amphions2 gewonnen hat.
Clément
1 Muse der Hymnen.
2 Sohn von Antiope und Zeus, von Hermes mit einer Leier beschenkt. Angeblich geht der lydische Modus auf ihn zurück.
Aus: Sonates en trio pour un clavecin et un violon dédiées à Monsieur et à Madame Forqueray par M. Clément, Paris 1743. Abdruck in de La Laurencie, S. 1267.
LITERATUR
Mercure de France Nov. 1753 ("Songe. Poésie de Mlle Forqueray à sa mère", Angabe nach MGG 1)
Pierre Louis D'Aquin de Châteaulyon, Lettres sur les hommes célèbres, dans les sciences, la littérature & les beaux-arts, sous le règne de Louis XIV, Amsterdam 1754, Repr. o. O. 1978.
Friedrich Wilhelm Marpurg, Historisch-Kritische Beyträge zur Aufnahme der Musik, Berlin 1754.
Gerber 1 (Art. Jean-Baptiste Forqueray), MGG 1 (Art. Jean-Baptiste Forqueray), MGG 2000 (Art. Jean-Baptiste Forqueray), New Grove 2001 (Art. Jean-Baptiste Forqueray)
Marcelle Benoit, Versailles et les musiciens du Roi 1661-1733. Étude Institutionnelle et Sociale, Paris 1971.
Robert Machard, Jean-Joseph Cassanéa de Mondonville, Paris 1980.
Lionel de La Laurencie, "Deux Violistes celebres: Les Forquerays", in: Bulletin français de la société internationale de musique 1908, S. 1251–1258, 1267–1274.
Marcelle Benoit, N. Dufourcq, "A propos de Forqueray", in: RMFC 1968, S. 229–241.
Julie Anne Sadie, "Musiciennes of the Ancien Régime", in: Women Making Music. The Western Art Tradition, 1150–1950, hrsg. von Jane Bowers u. Judith Tick, London 1986, S. 191–223.
Bildnachweis
http://www.editions-classique.com/partition-tablature,dubois-marie-rose-mme-forqueray,posters,compositeurs,6,1,12,972.htm, Zugriff am 8. Febr. 2008.
Claudia Schweitzer
© 2008 Freia Hoffmann