Gautherot, Louise, geb. Deschamps
* ca. 1763 in Frankreich, † 28. Juli 1808 in London, Violinistin und Sängerin. Louise Deschamps konzertierte schon im Kindesalter. Sie war Schülerin von Nicolas Capron (1740–1784). Nach Warwick Lister ist ein späterer Unterricht bei Giovanni Battista Viotti (1755–1824) nicht unwahrscheinlich. 1774 spielte sie im Alter von elf Jahren erstmals in den Pariser Concerts spirituels, sie ließ sich dort bis 1779 mindestens zwölfmal hören. In den darauf folgenden fünf Jahren sind keine Konzerte nachweisbar, jedoch heiratete sie in dieser Zeit. Von Dez. 1784 bis Aug. 1788 spielte in weiteren zwölf Konzerten der Concerts spirituels. Im Jan. 1785 trat sie dort im selben Konzert wie Maddalena Lombardini Sirmen auf und spielte dabei im Duo mit der Pianistin Willieaume. Von dort aus verbreitete sich ihr Ruf bis nach London: "A female Performer on the Violin – Madame Gautherot – who is much to be praised. Her music is good, and she executes it well, both as to brilliancy and tone. In short, her report is in the best style that can be, viz. that of expression. – And this from a reporter, who has heard every violin, these thirty years. Of course even Madame Syrmen and Miss Wathen" (World and Fashionable Advertiser 6. Sept. 1787).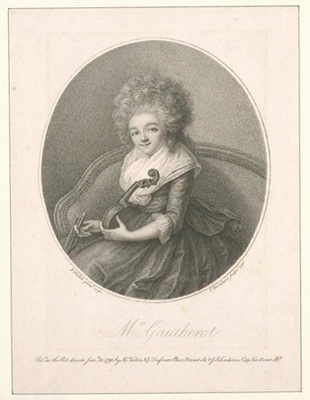 Louise Gautherot verlegte den Schwerpunkt ihrer Tätigkeit nun nach London. Am 9. Febr. 1789 konzertierte sie erstmals im Professional Concert am Hanover Square in einem Programm mit gemischten Besetzungen. Die erste Reaktion auf ihr Spiel in London war noch gespalten: "Mad. Gautherot, the New Violin, was much applauded. She bows but feebly, but she has a rapid and brilliant left hand, that overcame many difficulties. Her Adagio was the least good. The Allegro Rondeau, rather a pretty thought, was the best" (World 10. Febr. 1789). Die Musikerin entwickelte nach ihrem Debut eine erstaunliche Konzerttätigkeit in London – soweit erkennbar, war sie bis zum 22. Mai 1789 in insgesamt 14 Konzerten unterschiedlicher Art (darunter auch geistliche Konzerte) tätig. Ihre Fähigkeiten wurden offenkundig bald sehr hoch eingeschätzt: "The mention of the wonderful talents of Madame Gautherot, on the violin, ought not to be omitted, – talents which received the unanimous applause of the Nobility and Gentry at the Professional Concert. The managers have, in addition to their very numerous and appointed band, engaged this Lady for their first night at a very high price" (Morning Chronicle and London Advertiser 24. Febr. 1789). Am 1. Mai veranstaltete sie ein Konzert zu eigenen Gunsten ("For the Benefit of Madame Gautherot", World 30. Apr. 1789), dabei spielte sie gemeinsam mit Johann Wilhelm Cramer ein Konzert für zwei Violinen von Jean-Baptiste Davaux, sowie mit Cramer und einem Cellisten Smith ein Trio von Viotti. Die im Umfang stets knappen Reaktionen der Londoner Presse gestalteten sich schnell sehr positiv: "Madame Gautherot's concerto was so delicious and charming a performance, that the audience could not contain their raptures till the end of the respective movements" (Morning Chronicle and London Advertiser 2. März 1789). Auch Vergleiche mit anderen Violinisten brauchte sie nach Meinung der Londoner Musikkritik nicht zu scheuen: "Madame Gautherot played on the violin a Concerto of Viotti's, a Parisian Composer, with amazing taste and brilliancy. There are few professional men who can surpass her exertion" (London Evening Post 26. Febr. 1789). Und die "Whitehall Evening Post" schrieb gar: "Madame Gautherot's concerto on the violin was equal to any performance on the same instrument by the first musical master of the present times" (London Evening Post 26. Febr. 1789).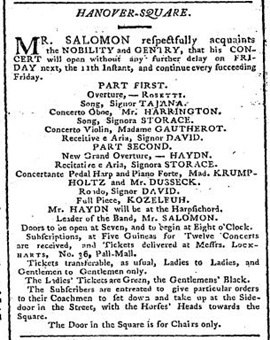 Um die Jahreswende 1789/90 betrat Louise Gautherot wieder die Pariser Podien, doch auch in den Jahren 1790 und 1791 spielte sie in London. Jeweils von Febr. bis Mai entwickelte sie dort, bei weiterhin sehr freundlichen Kritiken, eine umfängliche Konzerttätigkeit. Am 11. März 1791 konzertierte sie gemeinsam mit Joseph Haydn, der in diesem Konzert in den Hanover Square Rooms eine Sinfonie uraufführte. Für eine Saison wechselte sie 1792 nach Dublin, spielte dort u. a. in einem Konzert mit John Field. Im Frühjahr 1793 trat sie wieder in London auf. Dort war sie indes – soweit aus den britischen Tageszeitungen zu entnehmen – nur im Febr. und März zu hören. Erst im März 1794 vermeldet die "Morning Post": "Madame Gautherot, so eminently distinguished for her performance on the Violin, is thoroughly recovered from her indisposition which prevented her from appearing in public" (Morning Post 12. März 1794). Am 4. Apr. 1794 spielte sie, in einem Konzert der Harfenistin Camille Delaval, gemeinsam mit der Pianistin und Geigerin Henriette Larrivée ein Werk Viottis für zwei Violinen, "her Concertante in which she was admirably supported by Madam Larrivee, went off with unusual spirit" (Morning Post 7. Apr. 1794).
1794 brach, soweit erkennbar, die Konzerttätigkeit Louise Gautherots plötzlich ab. Erst 1804 war wieder von ihr zu hören. In einer im "Morning Chronicle" (19. März 1804) veröffentlichten Konzertankündigung luden nun "Madame and Miss Gautherot" zu einem Konzert zu eigenen Gunsten ein. Vermutlich hatte Louise Gautherot also eine Tochter, die nun als Harfenistin in das öffentliche Musikleben eintrat. Das gemeinsame "Annual Concert" (Morning Chronicle 17. Apr. 1806) wurde von 1804 bis zum Todesjahr der Geigerin 1808 zur jährlichen Gewohnheit (unter Teilnahme anderer MusikerInnen). Neben diesen jährlichen Konzerten lassen sich nur noch einzelne Auftritte in der Öffentlichkeit erkennen (jeweils einmal 1806 und 1807).
Trotz vieler freundlicher Kritiken lassen sich auch zeitgemäße Ressentiments gegenüber der Geigerin erkennen. In seinen Erinnerungen schrieb der Oboist William Parke: "Madame Gautherot, from Paris, performed, for the first time in England, a concerto on the violin with great ability. The ear, however, was more gratified than the eye by this lady's masculine effort" (zit. nach MusW 1883, S. 131).
In ihren Programmen spielte Louise Gautherot zunächst Konzerte von Capron, Franz La Motte und Giovanni Mane Giornovichi. Ab Ende der 1780er Jahre wandte sie sich den Konzerten Viottis zu. Als erste InterpretIn überhaupt führte sie im Febr. 1789 dessen Musik in London auf. "Mad. Gautherot played her Viotti Concerto, of which the Adagio is the worst – The Allegretto the best" (World 28. Febr. 1789).
Die Harfenistin und mutmaßliche Tochter Gautherot konzertierte auch nach dem Tod ihrer Mutter in England (zumindest bis 1838). Dabei spielte sie gelegentlich gemeinsam mit einer weiteren Musikerin, der Pianistin A. Gautherot – möglicherweise eine zweite Tochter Louise Gautherots.
LITERATUR
Bath Chronicle 1789, 16. Apr., 7. Mai
Diary or Woodfall's Register [London] 1790, 20. Febr.; 1791, 12. März, 3. Mai
General Advertiser [London] 1789, 6., 7. März
Jackson's Oxford Journal 7. Febr. 1807
Lloyd's Evening Post 2. Mai 1791
London Chronicle 1789, 5. März; 1791, 10. März
London Evening Post 26. Febr. 1789
The Morning Chronicle (and London Advertiser) 1787, 6. Juni; 1789, 24., 26., 28. Febr., 2., 3., 5., 6., 9., 12., 13., 20., 26. März; 1791, 19., 24. Febr., 7., 8. März; 1793, 22., 26. Febr.; 1794, 4. Apr.; 1804, 19. März; 1805, 12. März; 1806, 2., 12. Apr., 18. Juni; 1807, 31. März; 1808, 9. Mai, 4. Aug.
Morning Post and Daily Advertiser [London] 1789, 6., 19., 24., 27. Febr., 7., 14., 17., 20., 23. März, 15., 28., 29. Apr., 1., 7., 11., 21. Mai; 1791, 19., 21. Febr., 7., 10. März; 1793, 12., 14. Febr.; 1794, 12. März, 7. Apr.
Public Advertiser [London] 27. März 1790
Stuart's Star and Evening Advertiser 15. Apr. 1789
Times [London] 1789, 21., 24. Febr.
Whitehall Evening Post 1790, 11. Febr.; 1791, 12. März, 30. Apr.
World [London] 1789, 5., 10., 19., 21., 26., 27., 28. Febr., 5., 10., 12., 13., 17., 19., 20., 24., 27. März, 3., 9. , 11., 13., 22., 27., 29., 30. Apr., 1. , 11., 12., 13., 19., 21., 22., 27. Mai; 1790, 15., 18., 19., 26. Febr., 15., 17., 22., 24., 25. März, 12., 29. Apr., 5., 6., 10., 13. Mai; 1791, 7., 8., 10., 11. März; 1793, 8., 14., 15., 16., 18., 20., 25. Febr.
World and Fashionable Advertiser [London] 6. Sept. 1787
Gerber 1, Chor/Fay, Gerber 2 ,Schilling, Gaßner, Mendel, Van der Straeten
Alexandre Choron u. François Joseph Marie Fayolle, Dictionnaire historique des musiciens, artistes et amateurs, morts ou vivans, Paris 1817.
"Female Performers on the Violin. 'Place aux dames!'", in: MusW 1839, S. 34–37.
Gustav Friedrich Klemm, Die Frauen. Culturgeschichtliche Schilderungen des Zustandes und Einflusses der Frauen in den verschiedenen Zonen und Zeitaltern, 6 Bde., Bd. 5, Dresden 1858.
Gertrude Paulette Ogden, "Growth of Violin playing by Women", in: Violin Times 1899, S. 106–108.
F. G. E., "Lady Violinists", in: MusT 1906, S. 662–668.
Arthur Pougin, Le Violon. Les Violonistes et la Musique de Violon du XVIe au XVIIIe siècle, Paris 1924.
Henry C. Lahee, Famous Violinists of To-day and Yesterday, Boston 1925.
Constant Pierre, Histoire du concert spirituel 1725–1790, Paris 1975.
Philip H. Highfill [u. a.], A Biographical Dictionary of Actors, Actresses, Musicians, Dancers, Managers & other stage personel in London, 1660–1800, 16 Bde., Bd. 6 , Carbondael [u. a.] 1978.
Thomas Braden Milligan, The concerto and London's musical culture in the late eighteenth century, Michigan 1979.
Brian Boydell, Rotunda music in eighteenth-century Dublin, Dublin 1992.
Paula Gillett, Musical Women in England 1870–1914. "Encroaching on All Men's Privileges", London [u. a.] 2000.
Ian Woodfield, Salomon and the Burneys. Private Patronage and a Public Career, Burlington 2003.
Warwick Lister, Amico. The Life of Giovanni Battista Viotti, Oxford [u. a.] 2009.
Bildnachweis
Porträt: Stich von Francesco Bartolozzi, undatiert, 18x14 cm, New York Public Library, http://digitalgallery.nypl.org/nypldigital/id?1166479
Konzertprogramm: Morning Chronicle [London] 7. März 1791
Volker Timmermann
© 2008 Freia Hoffmann