Eskeles, Cäcilie Cäcilia (Zippora, Zipporah, Zipora, Zipper, Zipperche) Freiin von, geb. Itzig, verh. Wulff, Wulf, verh. von Eskeles
* 1760 vermutlich in Berlin, † 25. Apr. 1836 vermutlich in Wien, Cembalistin und Gastgeberin eines Salons. Sie war das neunte Kind des vermögenden jüdischen Bankiers Daniel Itzig (1723–1799) und seiner Frau Mariane (Miriam) geb. Wulff (1725–1788). Zu ihren Schwestern zählten Fanny Arnstein, Sara Levy und Bella Salomon, die Großmutter von Felix Mendelssohn und Fanny Hensel. Die Kinder der Familie Itzig erhielten im vermögenden Elternhaus eine umfassende Bildung. Für den Klavierunterricht wurden hochqualifizierte Musiker herangezogen, u. a. Johann Philipp Kirnberger (für Hanna und Bella) und Wilhelm Friedemann Bach (für Sara). Über die pianistische Ausbildung Cäcilie Zippora Itzigs sind keine Einzelheiten bekannt.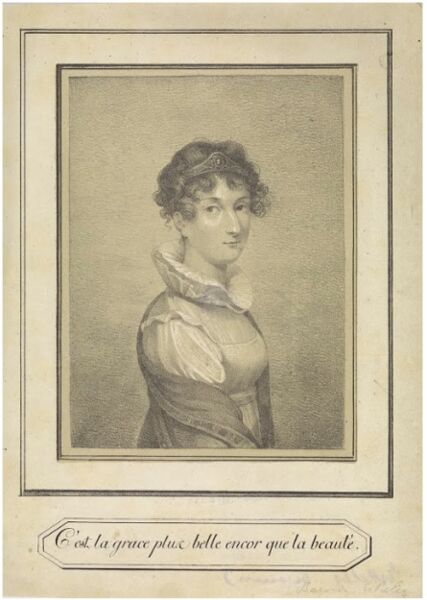 1777 heiratete Cäcilie Itzig Simcha Bonem Wulff, einen Cousin, den sie nach 1789 verließ. In den 1790er Jahren trat sie zusammen mit ihrer Schwester Sara Levy im Hause ihrer ältesten Schwester Hanna (1748–1801) und deren Ehemann Dr. Joseph Fließ als Cembalistin auf. Die Veranstaltungen hatten den Charakter von öffentlichen Konzerten. Dies zeigte sich u. a. darin, dass Eintritt verlangt wurde und in der "Berlinischen Musikalischen Zeitung" (Spazier) über das "Fliessische Koncert" berichtet wurde (Spazier 9. März 1793, S. 18). Im Jahre 1799 heiratete die Musikerin Bernhard Freiherrn von Eskeles (1753–1839) und lebte fortan in Wien. Wie ihre Schwester Fanny Arnstein führte sie dort einen bedeutenden Salon, in dem sie mit großer Wahrscheinlichkeit auch als Cembalistin aufgetreten ist. Sie stand in persönlichem Kontakt zu Goethe. Es sind einige ihrer Musikalien erhalten, die einen Einblick in ihr Repertoire geben. Es umfasste demnach u. a. Klavierwerke von Joh. Seb., Wilh. Fr. und C. Ph. Em. Bach, F. Couperin, Kirnberger und Beethoven. Letzterer widmete ihr das Lied Der edle Mensch sei hülfreich und gut (WoO 151, Jan. 1823). Wie ihre Schwestern setzte sich Cäcilie von Eskeles für wohltätige Zwecke ein. Sie hatte zwei Kinder, die sie (vermutlich nach ihren Eltern) Marianne und Daniel nannte.
LITERATUR
Spazier 9. März 1793, S. 18
New Grove 2001 (Art. Levy, Sara) , MGG 2000 (Art. Levy, Sara)
Lina Morgenstern, Die Frauen des 19. Jahrhunderts, Berlin 1888.
Nahida Remy, Das jüdische Weib, Leipzig 3. Aufl. 1892, Repr. Frankfurt 1999.
Johann Friedrich Reichardt, Vertraute Briefe: Geschrieben auf einer Reise nach Wien und den Österreichischen Staaten zu Ende des Jahres 1808 und zu Anfang 1809. Eingel. und erl. von Gustav Gugitz, 2 Bde. (= Denkwürdigkeiten aus Altösterreich 16), München 1915.
Lina Morgenstern, Die Frauen des 19. Jahrhunderts, Berlin 1888.
Salomon Wininger, Große Jüdische National-Biographie, Bd. 2, Cernăuţi [1927].
Ernst Fritz Schmid, Carl Philipp Emanuel Bach und seine Kammermusik, Kassel 1931.
Hilde Spiel, Fanny von Arnstein oder Die Emanzipation. Ein Frauenleben an der Zeitenwende 1758–1818, Frankfurt a. M. 1962.
Siegmund Kaznelson, Juden im deutschen Kulturbereich, Berlin 1962.
Peter Wollny, "Sara Levy and the Making of Musical Taste in Berlin", in: MQ 4 (1993), S. 651–688.
Ders., "'Ein förmlicher Sebastian und Philipp Emanuel Bach-Kultus'. Sara Levy, geb. Itzig und ihr literarisch-musikalischer Salon", in: Musik und Ästhetik im Berlin Moses Mendelssohns, hrsg. von Anselm Gerhard (= Wolfenbütteler Studien zur Aufklärung 25), Tübingen 1999, S. 217–249.
Bildnachweis
Anonymus, Lithographie (undatiert), Rechte: Jüdisches Museum Wien
https://artsandculture.google.com/asset/c%C3%A4cilie-von-eskeles-geb-itzig-1760%E2%80%931836/2wHvj3CDfbfHtw?hl=de, Zugriff am 21. März 2023.
HB/CB
© 2007/2023 Freia Hoffmann