Mannsfeldt, Mannsfeld, Frieda (Wilhelmine), Frida
* 21. März 1863 in Chemnitz, † 7. Aug. 1882 in Blasewitz (heute Stadtteil von Dresden), Harfenistin. Ihre Eltern waren Emilie Marie geb. König und Hermann Gustav Mannsfeldt (1833–1892), Geiger und Dirigent. Von 1871 bis 1885 leitete ihr Vater die Kapelle des Gewerbehauses in Dresden, anschließend war er für die Konzertsaison 1885/86 Nachfolger von Benjamin Bilse am Konzerthaus in Berlin, zuletzt Kapellmeister in Bad Ems. Seine Tochter präsentierte er der Öffentlichkeit erstmals bei einem Konzert in Bad Kreuznach, das er als Gastdirigent leitete. "The instrumental solos were in the hands of a very young, but promising, performer, Frida Mannsfeldt (aged 12 years), who played, in a style astonishing for one so young, C. Oberthür's harp solo, ,The Gipsy Girl,' and – by the same composer – a nocturne for harp and violin, in which she was assisted by her father" (MusW 1875, S. 616). Die anschließende Konzerttätigkeit von Frieda Mannsfeldt beschränkte sich den vorliegenden Presseberichten zufolge auf den sächsischen Raum und die Jahre 1878 bis 1882. 1883 starb sie mit nur 19 Jahren.
Nach einem Auftritt am 3. Apr. 1878 in Zwickau bezeichnete die "Neue Zeitschrift für Musik" sie als eine "für ihr noch sehr jugendliches Alter […] ganz bedeutende Harfenkünstlerin" (NZfM 1878, S. 294). Es folgten Auftritte in Dresden, meist im Rahmen von Orchesterkonzerten ihres Vaters. Nach einem Konzert in Halle am 3. März 1881 äußerte das "Musikalische Wochenblatt" die "Hoffnung, in ihr recht bald eine der ersten Vertreterinnen ihres Faches begrüßen zu können" (FritzschMW 1881, S. 135). Im 4. Abonnementkonzert des Leipziger Gewandhauses 1881 übernahm sie in Liszts Symphonischer Dichtung Tasso die Harfenpartie, und im folgenden Abonnementkonzert wirkte sie wiederum im Orchester mit (Mendelssohns Schauspielmusik zu Athalia). Im 16. Abonnementkonzert am 9. Febr. 1882 erhielt sie auch Gelegenheit, als Solistin in Erscheinung zu treten. Auf dem Programm standen ein Konzert-Allegro von Elias Parish Alvars für Harfe und Orchester, ein Adagio von Karl Oberthür und eine Konzertetüde von Asher. Eduard Bernsdorf, langjähriger Kritiker der "Signale für die musikalische Welt", schrieb, dass ihm "die Leistungen dieser noch jungen Dame recht wohl behagt haben, und daß ihm der ihr gespendete Beifall, kraft der von ihr dargethanen Fertigkeit und Gewandtheit, sowie der im Ganzen glücklichen Vortrags-Eigenschaften, als ein vollberechtigter und verdienter erschien" (Signale 1882, S. 211). Allerdings nahm die Presse auch ihren Auftritt zum Anlass, die Harfe als Konzertinstrument zu kritisieren, "an instrument happily not often heard as a solo" (MusT 1882, S. 151). Bernsdorf ließ seine Leserschaft wissen,"daß ihm das Instrument an sich, seiner Tonarmuth und der Beschränktheit der auf ihm zu ermöglichenden Effecte wegen, niemals eine große Zuneigung einzuflößen vermocht hat" (Signale 1882, S. 210f.). Auch das Programm fand bei den Rezensenten wenig Gegenliebe. Das Konzert von Parish Alvars, so die "Neue Zeitschrift für Musik", sei "eine Composition, welche als einzigen Vorzug den der Kürze offenbart. Die Musik ist nichtssagend und trivial und von einigen Schnurrpfeifereien abgesehen monoton. Weit höher steht das später von ihr gespielte Adagio für die Harfe von Oberthür und auch die Concert-Etude von Asher. Oberthür giebt uns in seinem Adagio Musik und der Solistin genügend Nüsse zu knacken, und sicherlich hat dieselbe es nur der trefflichen Ausführung dieser Composition zu danken, dass sie mit so reichem Beifall überschüttet wurde" (AmZ 1882, Sp. 110f.). Vor allem im Hinblick auf das Gesamtprogramm, das auch die Manfred-Ouvertüre von Schumann und die 7. Symphonie von Beethoven enthielt, schrieb die "Musical Times": "No doubt the pièces de salon which Fräulein Mannsfeldt played, not to speak of the Concert Allegro in which the orchestra took part, could scarcely be dignified by the name of serious music" (MusT 1882, S. 151).
Kritik am Instrument und am Repertoire (Frieda Mannsfeldt spielte außer den genannten Werken die Danse des Sylphes von Félix Godefroid und eine Fantasie von Karl Oberthür über Motive aus Flotows Martha) durchzieht die Presse auch anderer Harfenistinnen dieser Zeit, etwa Rosalie Spohr, Helene Heermann und Marie Mösner.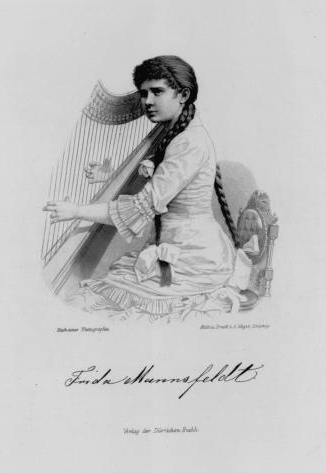 Frieda Mannsfeldt, Stich von August Weger.
LITERATUR
Taufeintrag St. Johannis Chemnitz
Sterbeurkunde Stadtarchiv Dresden
AmZ 1882, Sp. 110f.
FritzschMW 1881, S. 135
Leipziger Zeitung 1882, S. 124
Musical Standard 1881 I, S. 267
Musikalisches Centralblatt 1882, S. 53, 315
MusT 1882, S. 151
MusW 1875, S. 616
NZfM 1878, S. 195, 294; 1881, S. 131, 419, 481; 1882, S. 375
Signale 1879, S. 1016; 1881, S. 995, 1012; 1882, S. 210f.; 1883, S. 324, 633
Rudolph Riga (Art. Mannsfeld, H.)

Bildnachweis
Sammlung Manskopf, http://edocs.ub.uni-frankfurt.de/frontdoor.php?source_opus=7901533&la=de, Zugriff am 18. Jan. 2012
Freia Hoffmann
© 2011 Freia Hoffmann