Brizzi, Brizzi Giorgi, Maria, verh. Giorgi
* 7. Aug. 1775 in Bologna, † 26. Dez. 1811 ebd., Pianistin, Klavierlehrerin und Komponistin. Schon mit zwölf Jahren Organistin und Leiterin des Nonnenchores an San Bartolomeo in Ancona, wurde sie in den folgenden Jahren als Pianistin europaweit bewundert, u. a. von Clementi und Haydn, auch wegen ihrer Improvisationskunst. Für ein Wiener Konzert von 1805, in welchem sie ein Doppelkonzert von Johann Nepomuk Hummel mit Anton Wranitzky (Kapellmeister des Fürsten Lobkowitz) als zweitem Pianisten bestritt, war eine solche "Improvisata" angekündigt, "und diese wurde wenigstens auf eine neue Art ausgeführt. Mad. Brizzi fing nämlich aus D moll zu präludiren an" (AmZ 1804/05, Sp. 592), verband dann improvisierend bekannte Themen, jedoch nicht solche aus einer bestimmten Oper, wie dies in den Opernfantasien der Folgezeit üblich war, sondern aus Opernarien und Instrumentalstücken unterschiedlicher Komponisten, u. a. von Nicola Antonio Zingarelli. Zweimal fügte sie sogar Teile aus gedruckten fremden Klaviervariationen ein. Dann "endlich – fiel eine von der Violin und dem Violoncell accompagnirte Polonoise von [dem preußischen Hofkapellmeister Friedrich Heinrich] Himmel ein, womit sich denn diese sonderbare Phantasie zum Erstaunen aller Zuschauer schloss" (ebd., Sp. 592f.).
1790 kehrte sie nach Bologna zurück, wurde Mitglied der Accademia Filarmonica der Stadt und erteilte Klavierunterricht. Nach ihrer Heirat 1793 mit Luigi Giorgi war ihr Haus Treffpunkt zahlreicher Künstler. Sie starb 1811 im Kindbett nach der Geburt ihres Sohnes Eugenio. Die Musik zu ihrem feierlichen Begräbnis wurde angeblich durch ein Orchester von 100 Künstlern ("professori") aufgeführt. Während einer Gedächtnisfeier der Accademia im Dezember des Folgejahres hielt der namhafte Dichter Pietro Giordani die Trauerrede.
Im Liceo Musicale ihrer Heimatstadt sind Werke von ihr erhalten, u. a. ein Militärmarsch zum Aufenthalt Napoleon Bonapartes 1807 in Bologna und eine Kantate zur Feier der Hochzeit Bonapartes mit der Tochter von Kaiser Franz II., Marie Louise.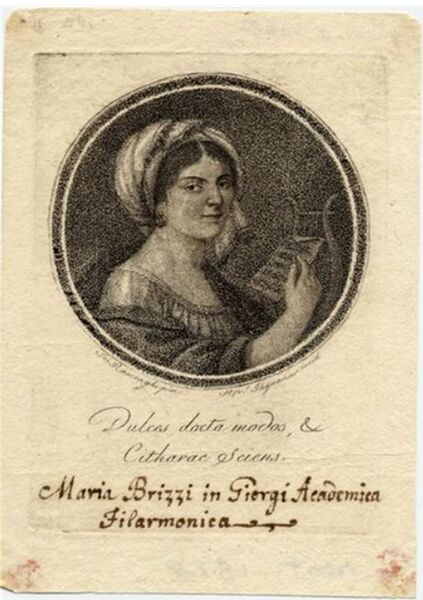 LITERATUR
AmZ 1804/05, Sp. 592f.
Gazzetta musicale di Milano 1858, S. 67
Fétis, Villani, Sartori Enci, Cohen
Stefano Barandoni, "Brizzi Giorgi, Maria", Home page di Intrecci Femminili, http://www.intreccifemminili.com/Eng/Brizzi_E.html, Zugriff am 20. März 2009.
Claudia Schweitzer u. Elke Schröder, Genovieffa Ravissa, Ein Musikerinnenleben im 18. Jahrhundert, Freistadt 2005.
Peter Loyson, Her Story! A Tribute to Italian Women, From Earliest Times to the Present. Covering over 900 Women, Garamond/ZA 2021.
Bildnachweis
www.artelibro.it/blog/2011/11/29/maria-brizzi-giorgi, Zugriff am 10. Apr. 2022.
Peter Schleuning/CB
© 2009/2022 Freia Hoffmann